This week's Weekend Caption Contest™ reminds us how the fight against corruption never ends.
The assignment this week was to caption the following picture:


Here are the winning entries:
1) (fustian24) – "And here's to Hunter's new board positions!"
(RockThisTown) – "'Here's to figuring out a way to wreck Trump's economy!'"
2) (Mike) – "Whatcha thinking, Jill?"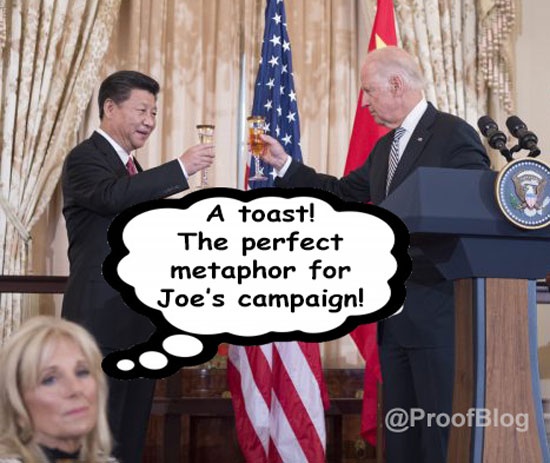 (retired military) – "Ping "So let me get this straight. The democrats wanted to impeach Trump for withholding aid to Ukraine but the democrats are currently withholding aid to Americans"
Biden "Correct. Cause that is how we roll""
3) (Raaron) – ""And it's the one from China of the three who is potentially least damaging to American interests.""
(cathymv) – "Xi: I'm sorry to hear about your impending suicide
Biden: wait……what"
4)(Joe_Miller) – ""I think Kerry's a dumbass…He's right behind me, isn't he?""
(Mary Gehman) – "Xi shoots! Xi scores! And it's nothing but net…net profits for China anyway!"
5) (Rick Adams) – ""Yes, I'll drink to that! The…uh, look, you know, the thing. I'll drink to that. Who were you again?""
(RadiCalMan) – "Hey! What's a few million Coronavirus deaths among friends!"
6) (DJD60_TX) – "Biden meets the DNC's choice for his VP nominee"
(Par4Course) – ""Here's to you, Chairman Mao.""
The Readers Choice Award this week goes to:
(rodney dill) – "Joe: "Here's to turning our economy all the way to XI.""
Most Inappropriate But Funny:
(yetanotherjohn) – "Me love you long time."
Best use of the Trump Administration Caption of Choice:
(Rodney G. Graves) – "Hillary couldn't be here because she's no longer Secretary of State and will never be President."
Best Banter Weight:
(Brian Brandt) – "God made it, but the Pennsylvania Liquor Control Board took it away."
Best "Who Do I Have to Blow…":
(Paul Hooson) – ""Who do I have to blow to get something other than a ventilator tube down my throat?"."
That's all for this weekend. A new edition of the Wizbang Weekend Caption Contest™ will debut Friday morning.