This week's Weekend Caption Contest™ made me wonder when Madame Tassaud's started delivering to other venues. We had over 200 captions so we have double winners per position. The assignment this week was to caption the following picture:

Here are the winning entries:
1) (David Robertson) – "If Bill Clinton were the one sitting in that chair, then he would be doing this:"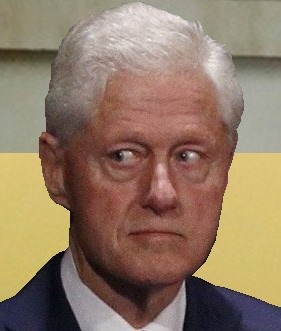 (914) – "Thank God the obamas are gone!
Sorry , all I could come up with?"
2) (Mary Gehman) – ""We both have PMS and are armed…any questions, Donald?""
(Rock ThisTown) – "Why so Syria-ous?"
3) (Olsoljer) – "Two gorgeous and well dressed women, a serious looking man appearing concerned.
What does this tell us immediately?
None of them are democrats"
(Joe_Miller) – "Decisions, decisions. What's a pussy grabber to do?"
4) (yetanotherjohn) – "Honey, I'd like you to meet Mrs. Mortis, Mrs. Rigor Mortis."
(cathymv) – "Any second now, Fembots machine gun jubblies will start blasting!"
5) (Mike) – "Trump meets with the two runners up in the "Would be a better President than Hillary" contest."
(Brian Brandt) – "Well King Abdullah and Queen Rania, it's been nice, but time to leave now.
I gotta go to dinner with Xi Jinping and look him right in the eye over a cobb salad while I let the world know that the U.S.A. is back in the leadership business."
6) (PBunyan) – "Queen Rania throught bubble: "In my country we call hair like that a 'camel lick'.""
(Scorpion) – "Desperately holding back their smiles, Trumps fashion police observe the replay of the withering attack on Hillary's Nehru Jacket production facilities. The secondary target, i.e. the airfield, required only 3 Tomahawk missiles."
The Readers Choice Award this week goes to:
(Retired military) – ""DId you two notice the lady in the drive through at McDonalds? She looked vaguely familiar""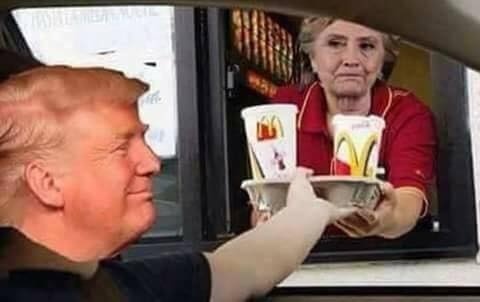 Honorable Mention(s):
(stan25) – "Donald Trump conceals his glee as he watches a cruise missile streaks towards Obama's vacation hideaway."
(jim_m_) – "Just think, if Biden had been elected he'd be trying to tongue me."
Most Inappropriate But Funny:
(rodney dill) – "Dromedary or Bactrian?"
"What?!?"
"One hump, or two?""
(fustian24) – "Queen Rania is apparently hoping the Donald has one more "cruise missile" left for her.
If you know what I mean…"
That's all for this weekend. A new edition of the Wizbang Weekend Caption Contest™ will debut Friday morning.