This week's Weekend Caption Contest™ was another smashing success. Chevita always brings out some extra effort and Kevin threw us a challenge by finding a photo of her without the crazy eyes showing. The assignment this week was to caption the following picture:

Here are the winning entries:
1) (Brian Brandt) – "Neiman Marxist"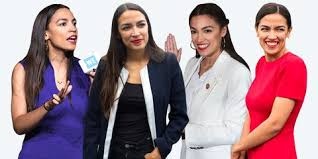 (Mary Gehman) – ""I've got my hammer…where's my sickle…???""
2) (Kenny Moore) – "I've never seen one of these. It is terrifying. I don't know what it's for, or what its purpose is."
(fustian24) – "AOC announced that it was high time a woman should become Speaker of the House!
Nancy Pelosi was unavailable for comment."
3) (jim_m) – "One of these is an unthinking object that cares nothing about humanity. The other is the House gavel."
(RockThisTown) – ""Where's my robe? Don't I get a black robe like the Supreme Court or something?""
4) (DJD60_TX) – ""You can't call me a dictator, because I don't have one.""
(Paul Hooson) – "You know if you're gonna form a worker's party, then you might start by actually working…"
5) (Rick Adams) – "And just like that, the American experiment met it's final end…"
(yetanotherjohn) – "Well, it took them a while, but the dems have finally come up with something crazier than the 'Mueller will impeach Trump" fantasies."
6) (Deplorable HRW) – "Square Peg Round Hole New Deal"
(retired military) – "AOC "And today I am announcing a price fixing lawsuit against Nestle's chocolate. It should be illegal to charge $100,000 for a candy bar""
The Readers Choice Award this week goes to:
(guido81_MA) – "After 19 hours, the House Sargent at Arms was finally able to convince her that there would be no mole popping up to whack."
Honorable Mention(s):
(Joe_Miller) – "In her case the left hand never knows what the other left hand is doing."
(cathymv) – "Gavel gazing"
Most Inappropriate But Funny:
(914) – "Baby seal alert!!"
Best use of the Trump Administration Caption of Choice:
(EricSteel) – "Things to be grateful for, AOC is not Speaker of the House and Hilary will never be President."
Best Banter Weight:
(yetanotherjohn) – "She couldn't pour water out of a boot if the directions were on the heel."
That's all for this weekend. A new edition of the Wizbang Weekend Caption Contest™ will debut Friday morning.