This week's Weekend Caption Contest™ was a great reminder of how people who truly love what America represents will fight to defend the freedoms that make us unique. The assignment this week was to caption the following picture:

Here are the winning entries:
1) (Mary Gehman) – "New Bumper Sticker: "My President beat up your honor student""
(guido81_MA) – "DOWN GOES ACOSTA!
DOWN GOES ACOSTA!!!
The Stompa in the Swampa."
2) (Rick Adams) – ""I've got your collusion right here, pal.""
(retired military) – "Well if it is a fight between Trump and Obama. I will stick with Trump."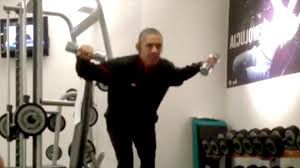 3) (rodney dill) – "First rule of Fight Club. No one tweets about Fight Club"
(BluesHarper) – "Dance like a butterfly, sting like a bee. Who's next after Hillary?"
4) (DJD60_TX) – "Tweet when I want to,
Hit like a truck,
I'm President Trump
and I don't give a … darn"
(Rodney Graves) – "The President appears with all of his political allies…"
5) (RadiCalMan) – "Trying hard now
It's so hard now
Trying hard now
Getting strong now
Won't be long now
Getting strong now
Gonna' MAGA now
Draining the swamp now
Gonna' MAGA, MAGA, MAGA…"
(Par4Course) – "Trump is already prepping for the 2020 Presidential debates."
6) (Joe_Miller) – "Posing for his official portrait."
(Kenny Moore) – "Jack Johnson looks down, smiles."
The Readers Choice Award this week goes to:
(Brian Brandt) – "You can stop counting. Hillary's not getting up."
Honorable Mention(s):
(Wild_Willie) – ""Come on Acosta. Let's see how big you are.""
(Vagabond661) – ""Did David Robertson post about the Confederate Battle Flag again?" "
(RockThisTown) – "My President can beat up your Supreme Leader, your Prime Minister AND your Chancellor."
Most Inappropriate But Funny:
(fustian24) – "It turns out that Trump doesn't just grab pussies…"
Best use of the Trump Administration Caption of Choice:
(yetanotherjohn) – "You laugh, but he knocked Hillary out of presidential contention."
Best Banter Weight:
(Retired military) – "Can you imagine the hearings with Ann Coulter as the nominee? They will be peeling libs off the ceiling. I would buy tickets."
That's all for this weekend. A new edition of the Wizbang Weekend Caption Contest™ will debut Friday morning.