This week's Weekend Caption Contest™ celebrates the wearing 0′ the green.
The assignment this week was to caption the following picture:


Here are the winning entries:
1) (Brian Brandt) – "Q: What's the difference between an Irish wedding and an Irish wake?
A: One less drunk."
2) (Bee Capu) –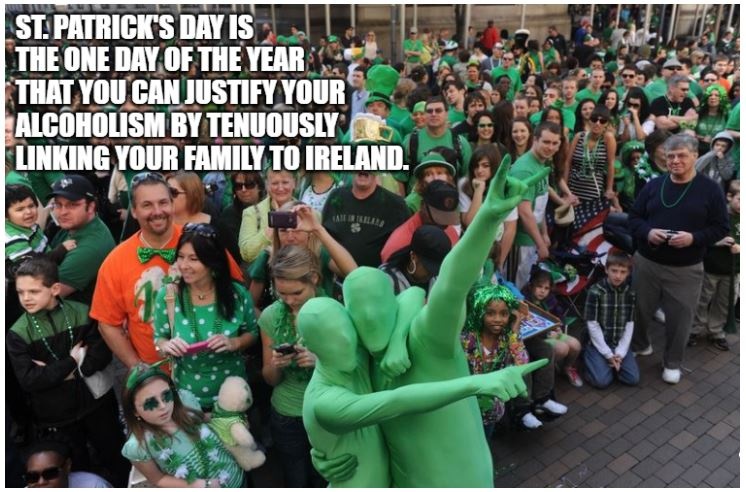 3) (Par4Course) – "This is not the Green New Deal AOC is always blabbering about."
4)(Nipperdoodle) – "Oh, look! The aliens are LEAVING!"
5) (KaptainKrude) – "Wow! That's a lot of green beer!
"Free beer! All right!"
And they were never heard from again…."
6) (RockThisTown) – "Bangers & mesh . . . ?"
The Readers Choice Award this week goes to:
(Porkopolis) – "Blarney Stoned"
Best "Jill Biden's Fashion Tips":
(yetanotherjohn) – "Oh great, you just know Jill's going to show up wearing that green body stocking next."
Best Banter Weight:
(Rick Adams) – "Kirk would be right at home."
Best "Where's Jackie?":
(retired military) – "Shown : The latest meeting of Biden's economic team made no significant progress for dealing with inflation."
Best Kamala:
(Mary Gehman) – ""Who do I have to blow around here for a green condom???""
Best Reference to a previous caption contest:
(rodney dill) – "The new performance art everyone is raving about. Attack of The Six Foot Budgies."
Most Inappropriate:
(cathymv) – "Geez…new sexual orientations…..Gumby and pokey….."
That's all for today. A new edition of the Wizbang Weekend Caption Contest™ will debut Friday morning.