This week's Weekend Caption Contest™ showed a loss in the number of captions submitted compared to the week before this one. What the heck? It's not like I'm kneeling during the anthem. You all should have more time for captioning, now that the NFL has mysteriously vanished. The assignment this week was to caption the following picture:

Here are the winning entries:
1) (fustian24) – Perhaps unsurprisingly, this was followed by a round of golf.
2) (yetanotherjohn) – So I swallowed one of those gastroenterology cameras, you know, the kind that pass through your entire digestive track, and guess what the last frame showed …
3) (Paul Hooson) – There's a rumor that Clinton will fly his pants at halfmast in honor of Hugh Hefner…
4) (rodney dill) – "Hey Phil, what's your golf handicap?"
"Them."
5) (RadiCalMan) – The three leaders of the "Make America Weaker Again" (MAWA) and their little dwarf, Igor, get together to review their progress.
6) (Mike) – Clinton: I've got his daughter's phone number!
Bush: I've got his back!
Obama: I've got his wallet!
The Readers Choice Award this week goes to:
(cathymv) – A Trump in the Whitehouse is worth two behind Bush
Honorable Mention(s):
(guido81_MA) – Shmoe, Larry & Girly
(Rick Adams) – And then the three started elbowing each other and telling weird in-jokes like "Area 51, badda boom, am I right?"
Most Inappropriate But Funny:
(retired military) – Clinton "I didn't mind people taking a knee when I was in office"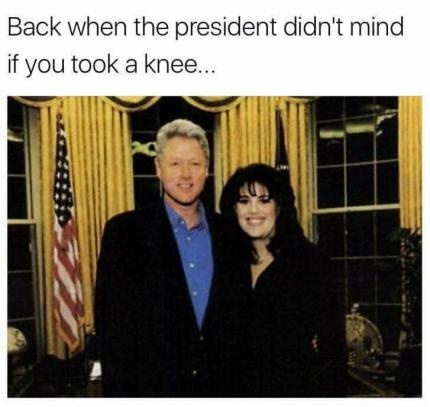 (mary gehman) – "Is that a camera between her boobs…???"
Best Reuse of the Caption of Choice for the Trump Administration:
(Rock ThisTown) – So three Presidents walk into a golf tournament. And . . . none of them are Hillary!
That's all for this weekend. A new edition of the Wizbang Weekend Caption Contest™ will debut Friday morning.