This week's Weekend Caption Contest™ reminded us that the MSM can take anything Trump does and trivialize it if it is positive. Who knew they were so worried about decorum in the Oval Office? Funny, they weren't worried about that in 1998. We were over 200 entries so we have double winners per place again. The assignment this week was to caption the following picture:

Here are the winning entries:
1) (fustian24) – "According to CNN, those are "white" African-Americans."
(rodney dill) – "Kellyanne: "Hey everybody, I just won a free Atlas…. FREE ATLAS! FREE ATLAS! Thank God Almighty, A FREE ATLAS!…..
(She resigned later that day)"
2) (cathymv) – "And Trump said: We all woke up this morning and Hillary still wasn't President of the United States!!"
(Brian Brandt) – ""Wait! I opened the wrong envelop! We're supposed to have coal miners in here!""
3) (yetanotherjohn) – "Lincoln freed the slaves from the democrats, but Trump aims to free the Blacks from the democrats."
(Retired military) – "FOX News "Pres Trump met with CBC members today"
CNN "Angry CBC members stormed the Oval Office demanding action by Pres Trump"
MSNBC "Pres Trump refused to sit down with CBC members today"
ABC "Pres Trump left CBC members standing emptyhanded today.."
CBS "Dan Rather – Pres Trump met with racists today to plot his overthrow of the US "
NBC "KellyAnne Conway refused to let CBC members sit next to her in the Oval Office""
4) (Vagabond661) – "The President greets Black leaders but Kellyanne gets cold feet."
(Rock ThisTown) – ""Not my President! Oh wait, wrong rally.""
5) (914) – "Obamas legacy lasted all of 2 days.."
(Paul Hooson) – ""Oh Jesus no! Nancy Pelosi's gonna do the Democratic response to Kellyanne!.."."
6) (Olsoljer) – "Hey! Where is the big booty, ugly ass black tranny they said hung out here?"
(Scorpion) – "Wolf Blitzer finds himself busted seconds after opening the medicine cabinet."
The Readers Choice Award this week goes to:
(guido81_MA) – "Democrats suddenly have a problem with a woman on her knees in the Oval Office."
Honorable Mention(s):
(TheyTukRJobz) – "Mr. President, isn't her dress supposed to be blue?
No, we're Republicans. Cigar, anybody?"
(Jack Rudd) – "Egad, Trump's tie isn't centered! Brooks (who deified Obama's perfectly creased trousers) will be mortified."
Most Inappropriate But Funny:
(Rick Adams) – ""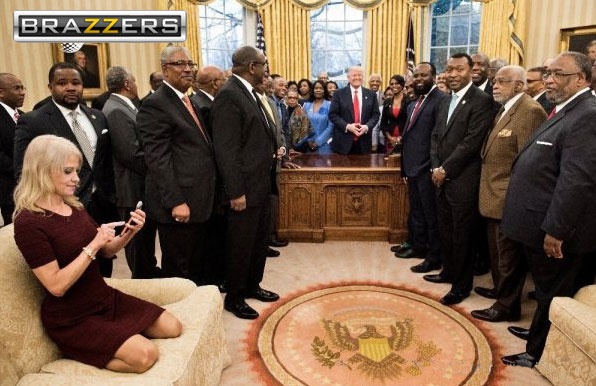 (Mary Gehman) – ""I just can't stand that eagle looking up and knowing I'm going commando.""
That's all for this weekend. A new edition of the Wizbang Weekend Caption Contest™ will debut Friday morning.