This week's Weekend Caption Contest™ celebrates the lead up to Thanksgiving and a reminder of the greatest episode of WKRP EVAH!
The assignment this week was to caption the following picture:


Here are the winning entries:
1) (Retired military) – "Biden "Before we get started what are your pronouns""
(Kenny Moore) – "You would be delicious with cornbread stuffing, but tradition dictates that we stuff the ballot box instead."
2) (McGeehee) – ""I hereby appoint you to the United States Supreme Court.""
(RockThisTown) – "Joe challenges the turkey to a teleprompter contest."
3) (Paul Hooson) – "And, the turkey is which one?" AND (RadiCalMan) – "Who's the biggest turkey in this picture?"
(Porkopolis) – "Spare me the 'White Privilege' shtick."
4)(vern bachman) –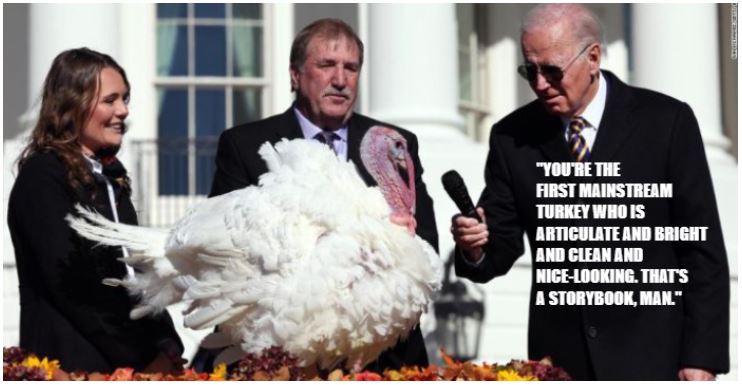 (BluesHarper) – "The turkey speaks fluent Biden."
5) (KaptainKrude) – ""Enjoy your flight."
"You too.""
(Rick Adams) – "Well, now we know where his border policy came from."
6) (Kevin) – "It appears to be fixed now."
(Par4Course) – "Seeing the turkey is white, Biden foregoes the traditional pardon."
The Readers Choice Award this week goes to:
(Mary Gehman) – "Flock the flocking flockers…"
Least Inappropriate:
(Brian Brandt) – "BREAKING NEWS: BIDEN TO ESCAPE CHARGES FOR MISHANDLING CLASSIFIED DOCUMENTS
ISAIAH 59 –
4 None calleth for justice, nor any pleadeth for truth: they trust in vanity, and speak lies; they conceive mischief, and bring forth iniquity.
5 They hatch cockatrice' eggs, and weave the spider's web: he that eateth of their eggs dieth, and that which is crushed breaketh out into a viper.
6 Their webs shall not become garments, neither shall they cover themselves with their works: their works are works of iniquity, and the act of violence is in their hands.
7 Their feet run to evil, and they make haste to shed innocent blood: their thoughts are thoughts of iniquity; wasting and destruction are in their paths.
8 The way of peace they know not; and there is no judgment in their goings: they have made them crooked paths: whosoever goeth therein shall not know peace.
9 THEREFORE IS JUDGEMENT FAR FROM US, NEITHER DOES JUSTICE OVERTAKE US: WE WAIT FOR LIGHT, BUT BEHOLD OBSCURITY; FOR BRIGHTNESS, BUT WE WALK IN DARKNESS."
Best Hillary:
(rodney dill) – "As God is my witness I thought Hillary could fly."
Best Banter Weight:
(cathymv) – "bwahahah… oh to see that desperate flapping of those chicken wings before she bounces off the ground…."
Best Sunday-11th Hour entry:
(ulley) – "Fancy getting laid."
Best "Where's Jackie?":
(yetanotherjohn) – "Ask not what your country can do for you, ask why you are here and why this 'Tom' fellow looks so familiar."
Best Hunter:
(Joe_Miller) – ""Hunter, you're pardoned.""
Best Reference to a previous caption contest:
(yetanotherjohn) – "You know, when Hillary doesn't wear a pant suit, you almost can't recognize her."
Most Inappropriate:
(rodney dill) – "Turkey(thinking): "Turducken for Thanksgiving this year? I guess you're the turd part.""
That's all for today. A new edition of the Wizbang Weekend Caption Contest™ will debut Friday morning.