This week's Weekend Caption Contest™ brought back an old favorite. A very old and bitter favorite.
The assignment this week was to caption the following picture:


Here are the winning entries:
1) (Brian Brandt) – "This picture is hilarious if you imagine her singing "I'm a Little Teapot Short and Stout.""
(rodney dill) – "Here she come just a walkin' down the street
Singing, 'Old wide Biddy, Biddy dumb, Biddy Boob"
2) (Par4Course) – "We normally require handcuffs, Madam Secretary."
(guido81_MA) – "Hillary is paroled from prison after serving her time for denying the results of the 2016 election. Oh wait, that DIDN'T happen????"
3) (vern bachman) –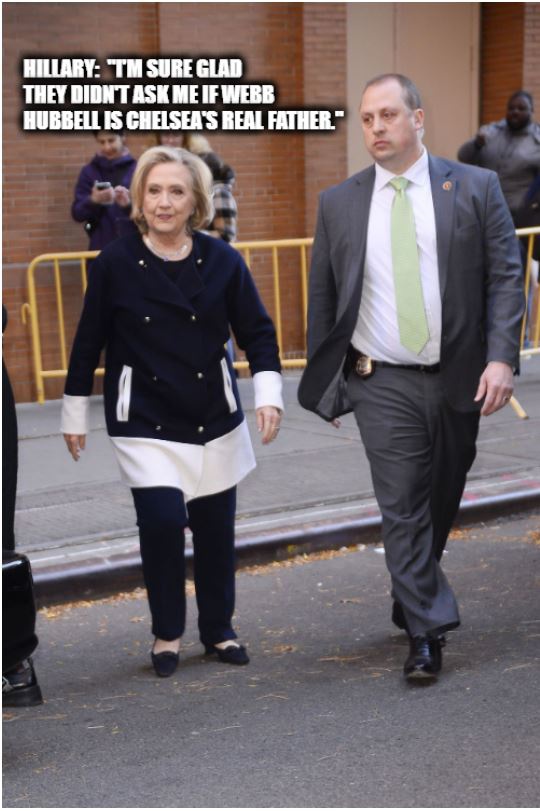 (yetanotherjohn) – "Joe, your stripper is here."
4)(Joe_Miller) – "Drawing the short straw."
(TheyTukRJobz) – "Thought bubble from agent: "Don't be so smug, bitch, I'd never take a bullet for you!""
5) (McGeehee) – "Still not the President."
AND
(Retired military) – "Here we are folks. The charter member of the Hillary will never be President club."
(patriciamcc) – "She's on her way to an audition for a part in The Seven Dwarfs. She just may get the part as Dopey or Grumpy."
6) (2klbofun) – "Why is the third button on the left side of her jacket in the right pocket of the xir in the purple hoodie? Good bet xir is texting some dirt on Hillary. Tomorrow's obits will read former Hillary stalker found in xis hotel room with a sheet tied around xis neck. Coroner says cause of death is suicide."
(Porkopolis) – "Off to The View to prove Godwin's Law….again."
The Readers Choice Award this week goes to:
(Mary Gehman) – ""Looks like we're gonna need a bigger broom…""
Best Kamala:
(Retired military) – "Hillary "GIve me some kneepads. I am gonna go for the VP Slot""
Best Banter Weight:
(BluesHarper) – "Oh great!!! Now I have an erection with puke all over it."
Best Sunday-11th Hour entry:
(RockThisTown) – "Attention meteorologists: I propose we name hurricanes after people who'll never be President."
Least Inappropriate:
(RadiCalMan) – "Donald Trump will live rent free in my head 24/7 forever!"
Most Inappropriate:
(yetanotherjohn) – "If your erection lasts more than four hours, just look at this picture and imagine her naked."
That's all for today. A new edition of the Wizbang Weekend Caption Contest™ will debut Friday morning.