This week's Weekend Caption Contest™ featured everyone's favorite attention ho moppet!
The assignment this week was to caption the following picture:


Here are the winning entries:
1) (Blues Harper) – "Nothing screams "Global Warming" more than wearing layer, after layer, after layer of clothes."
(Kaptain Krude) – ""As Gaia as my witness, I thought turkeys could fly!""
2) (yetanotherjohn) – "What a horrible right wing nazi threatening the very foundations of democracy … (someone whispers 'She's a liberal' in my ear) I mean what a brave speaker of truth to power who brings wisdom to all."
(Porkopolis) – "Save the Wails"
3) (Rick Adams) – "Please tell me those are truant officers taking her off to school." AND (Neo) – "Truncy Officers finally catch up to Greta"
(vern bachman) –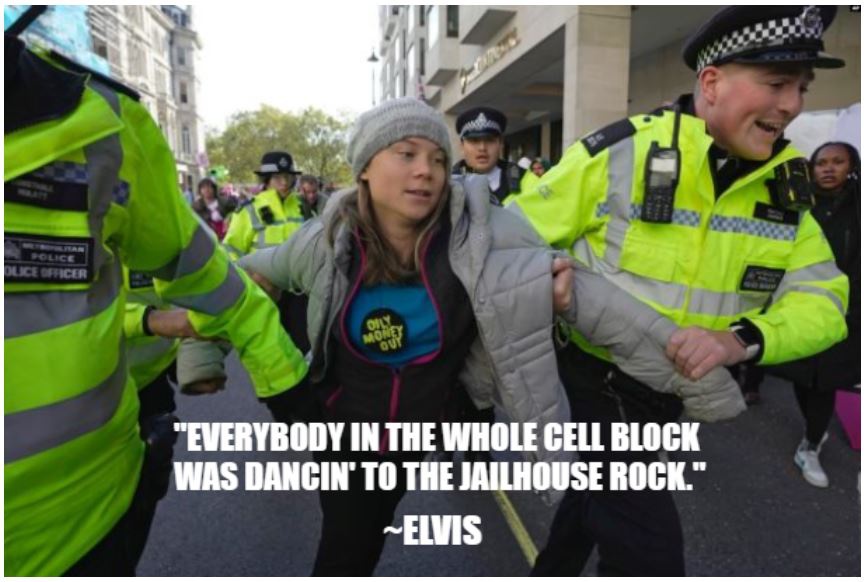 4)(Retired military) – "Greta "Quick guys get me to my SUV so I can get to the airport. I have another global warming protest to get to""
(RadiCalMan) – "No longer young enough to be cute, the downfall of Greta."
5) (Simplicio Salviati) – "This "staying relevant" business just gets harder every year…"
(ulley) – "You`re under arrest for impersonating Boris Johnson."
6) (Joe_Miller) – "How many people get a police escort to open up an OnlyFans account?"
(Mary Gehman) – "Hey, Greta…when you hit menopause, then you can lecture me about global warming and climate change…"
The Readers Choice Award this week goes to:
(Brian Brandt) – "This can't be happening. We were all dead in 2005 due to the climate crisis."
Best Hilldog reference:
(Retired military) – "And another charter member for the "I will never be President of the US" club."
Best Banter Weight:
(RockThisTown) – "One call at the jail on phone with huge carbon footprint – Check"
Best Sunday-11th Hour entry:
(Paul Hooson) – "Well, she's always welcome in Gaza."
Best "Throbbing Mattress Kitten":
(McGeehee) – ""You're going to jail, my throbbing protest march kitten.""
Best Reference to a previous caption contest:
(cathymv) – "These little Scottish dancing girls are getting uglier as they get older"
Least Inappropriate:
(Par4Course) – "London police remove antisemitic trash."
Most Inappropriate:
(yetanotherjohn) – "Greta: "How dare Jew"."
That's all for today. A new edition of the Wizbang Weekend Caption Contest™ will debut Friday morning.