This week's Weekend Caption Contest™ celebrates red pills. BIG red pills.
The assignment this week was to caption the following picture:


Here are the winning entries:
1) (RockThisTown) – "Kevin, pull the fire alarm!"
(Porkopolis) – "Matt Gaetz:
"Brought It!""
2)(ulley) – "The look of someone who just discovered this
is the toilet cueue."
(patriciamcc) – "What happens when one is arrogant, two-faced and corrupt. He never saw it coming; that's the amusing part of the story. He laid down with pigs rather than fly with the eagles. Eight eagles took him down."
3) (vern bachman) –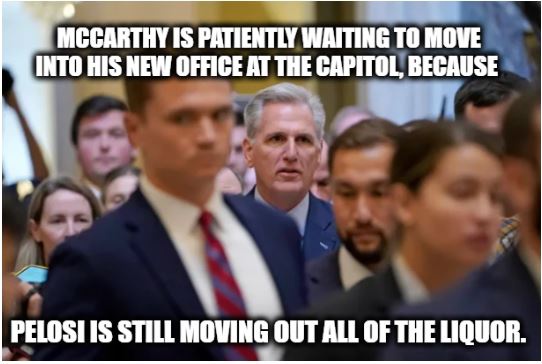 (cathymv) – "So long, Farewell, auf Wiedersehen, good bye…."
4)(Retired military) – "Well we here at Wizbang can never again say that the democrats haven't done something good for America."
(TheyTukRJobz) – "Never let it be said that McCarthy couldn't get bipartisan support…
… for his ouster as Speaker."
5) (Joe_Miller) – "Reminds me of the early days of The Who."
(Brian Brandt) – "Circular firing squad."
6) (Paul Hooson) – "Some days he just might as well be "Charlie" McCarthy……"
(Kenny Moore) – "Ya Gaetz me."
The Readers Choice Award this week goes to:
(sarahconnor2) – ""Gee. Who would have thought the Dems would stab me in the back? I reached across the aisle and everything!""
Best Kamala:
(Par4Course) – "Matt Gaetz: "Who do I have to blow to become Speaker?" 187 hands went up. (There are 33 female GOP Reps and Gaetz presumably can't blow himself.)"
Best Banter Weight:
(McGeehee) – "Help I'm stepping into the Twilight Zone
Place is a madhouse, feels like being stoned
My office's been moved under the back stairs
Where am I to go now that I'm neither here nor there?"
Best Sunday-11th Hour entry:
(rodney dill) – "What ever Matt wants, Matt Gaetz."
Best Reference to a previous caption contest:
(yetanotherjohn) – "He doesn't even have a fur clad wife to go home to."
That's all for today. A new edition of the Wizbang Weekend Caption Contest™ will debut Friday morning.