This week's Weekend Caption Contest™ was brought to you by the DNC. Enough said.
Please put suggestions for new caption categories in the comments section.
The assignment this week was to caption the following picture:


Here are the winning entries:
1) (Joe_Miller) – "If you're trying to impress the ladies, the gold bar goes in the front of your underwear, Bob."
(rodney dill) – "Looking for Mr. Goldbar."
2) (BluesHarper) – "No worries – I'm a democrat."
(Par4Course) – "The only honest one in this picture is the potted plant."
3) (ulley) – "Love the flack Jacket and matching wellies."
(RockThisTown) – "Their story seems to have some holes in it."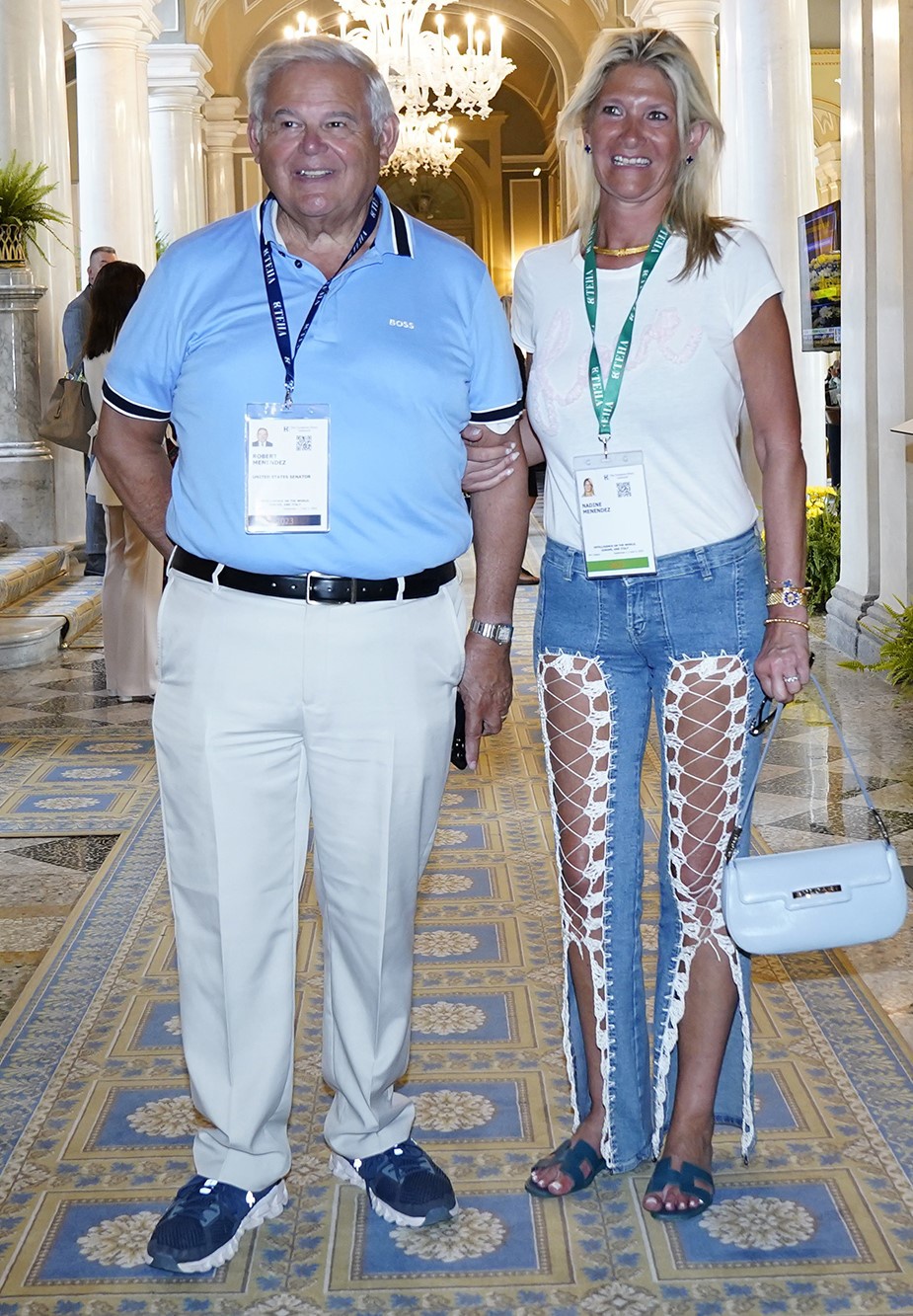 4)(KaptainKrude) – "Things getting a little confused down Fetterman way."
(cathymv) – "I did not have sex with that woman, Ms. Wildenstein"
5) (Kenny Moore) – "I can't have a fair trial in New York due to massive press and social media attention. I demand a change of venue to a fair, unbiased court in Egypt."
(RadiCalMan) – "I like my women "Wild & Wooly", just like my financial dealings!"
6) (vern bachman) –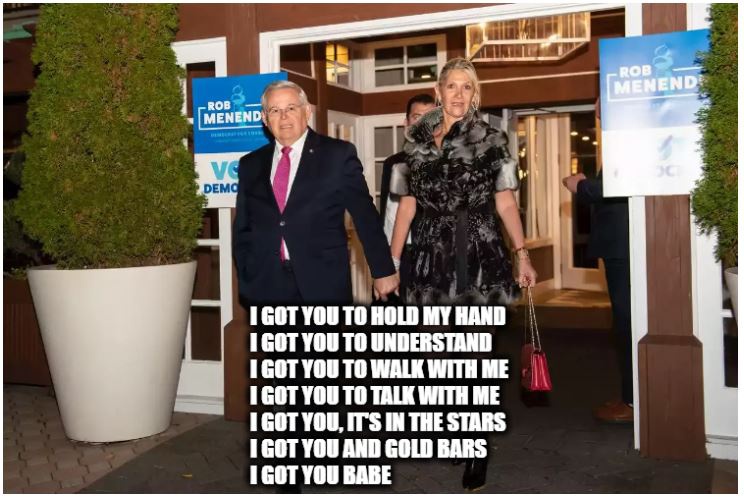 (Retired military) – "Instead of Batman and Robin New Jersey gets Fat man and Rabbit"
The Readers Choice Award this week goes to:
(Mary Gehman) – ""Oh…this old thing??? It's from the Crack Whore Collection at Walmart…""
Best "Jill Biden's Fashion Tips":
(TheyTukRJobz) – "Further proof that corrupt Democrats' wives look like retired hookers, even when they're not wearing fishnet stockings."
AND
(McGeehee) – "At long last, a political wife with even worse fashion sense than Doctor Jill."
Best Rare Too Soon award:
(Brian Brandt) – "Mrs. Menendez, if you can't afford nice clothes, there's a sale going on right now for some of Senator Feinstein's used things."
Best Sunday-11th Hour entry:
(Rick Adams) – "I've never been able to read his name without thinking, "Bob Mendacious.""
Best Hunter:
(RadiCalMan) – "Hey Dear, will you be my Hunter and I'll be your "Big Guy"!"
Best Halloween:
(Retired military) – "Here at the Senate Halloween ball we see Senator Menedez dressed in his money laundering costume while is wife is killing the crack hooker costume."
Best Reference to a previous caption contest:
(rodney dill) – "It's all shits and giggles until the budgies come home to roost."
Most Inappropriate:
(yetanotherjohn) – "MILNF"
That's all for today. A new edition of the Wizbang Weekend Caption Contest™ will debut Friday morning.