This week's Weekend Caption Contest™ features a photo responsible for incredible amounts of fundraising and liberal gnashing of teeth! Win-win.
The assignment this week was to caption the following picture:


Here are the winning entries:
1) (McGeehee) – ""Miss me yet? All they've done is miss me!""
(cathymv) – "Ghosts sit around a camp fire and tell Donald Trump stories"
2) (Porkopolis) – "Up-vote if you think this image should be projected on the Washington Monument in the line-of-sight from the White House."
(Kenny Moore) – "Monumentally Aggressive Government Atrocity"
3) (Retired military) – "Trump "Do you feel lucky punk? Well do you? I know what you are asking yourself. Was that 5 indictments or 6? To tell the truth I lost count myself in all the excitement. But you have to ask yourself. Do you feel lucky?""
(RadiCalMan) – "I am not a ham sandwich!"
4)(rodney dill) – "Speak softly and carry a Trump"
(Joe_Miller) – ""Leggo my Eggo!""
5) (Brian Brandt) – "2016 – The Pussy Grab – We got him this time!
2018 – Stormy Daniels – We got him this time!
2019 – Impeachment #1 – We got him this time!
2021 – Impeachment #2 – We got him this time!
2022 – The Tax Returns – We got him this time!
2022 – Alvin Bragg – We got him this time!
2022 – Mar A Lago – We got him this time!
2023 – E. Jean Carroll – We got him this time!
2023 – Atlanta – We got him this time!"
(vern bachman) –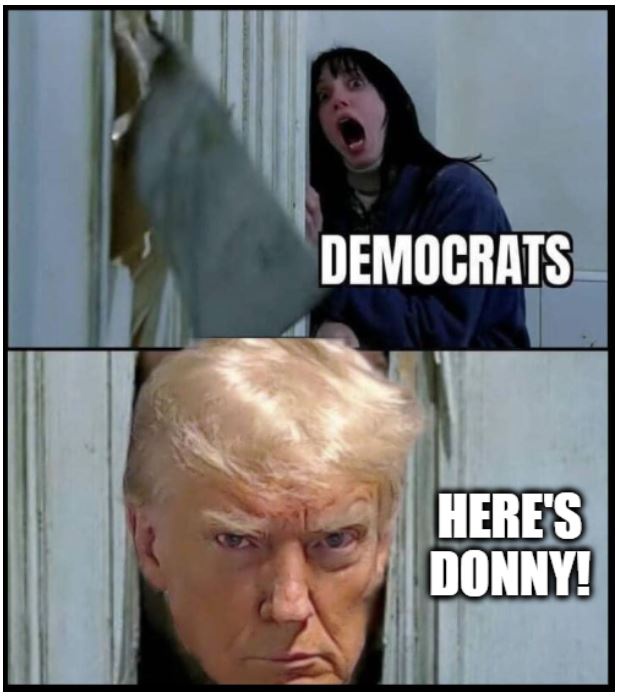 6) (Rick Adams) – ""You know, this is all starting to get a bit old…""
(RockThisTown) – "GMOAT Greatest mugshot of all time."
The Readers Choice Award this week goes to:
(sarahconnor2) – ""I'll be back.""
Thanks, everyone!
Best Kamala:
(Retired military) – "Trump "It's isnt "Who do I gotta blow " it is "Who is gonna blow me?""
Best Banter Weight:
(KaptainKrude) – "That deserves a full-body shiver in horror."

Best Sunday-11th Hour entry:
(Patrick_McHargue) – "They were coming for you, but I was in the way. Now I'm coming for them!"
Best "Where's Jackie?":
(yetanotherjohn) – "What's the difference between Joe and Donald? Depends."
Best "Throbbing Mattress Kitten":
(Mary Gehman) – ""Come to papa…you throbbing shutter-bug…""
Most Inappropriate:
(Paul Hooson) – "Not to change the subject, but I'd like to call for a moment of silence for Bob Barker. There's a guy who seems to die two or three times a year for the past ten years…"
That's all for today. A new edition of the Wizbang Weekend Caption Contest™ will debut Friday morning.