This week's Weekend Caption Contest™ celebrates Karma. Special shout out to yetanotherjohn for going above and beyond to prevent me from having to post a Biden photo next week.
The assignment this week was to caption the following picture:


Here are the winning entries:
1) (Kaptain Krude) – "They look bored. They must be watching a soccer match."
AND
(vern bachman) –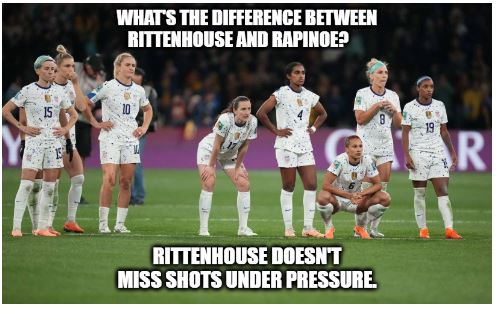 2) (Par4Course) – "US Women's Soccer Team listening to the National Anthem."
3) (Porkopolis) – "Trans-fixed."
4)(guido81_MA) –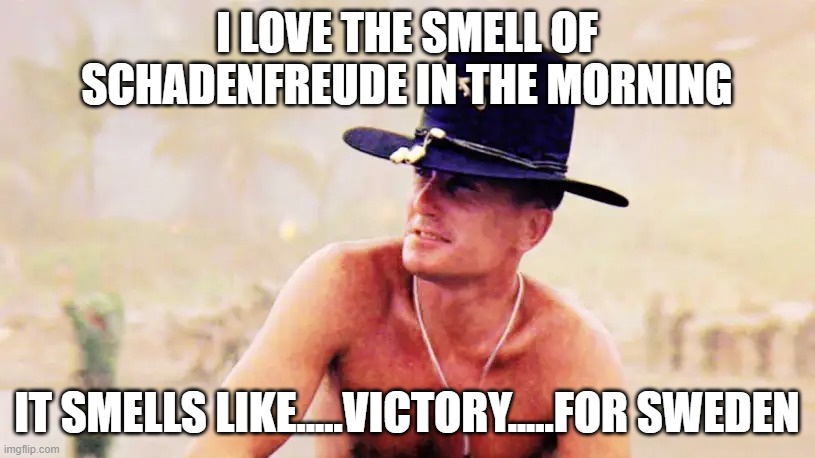 5) (McGeehee) – "USWNT takes the field against an even more challenging opponent: the Myrtle Street Park Pee-Wee Soccer All-Stars, winners of the Southside Recreation District Participation Trophy eight years running."
6) (BluesHarper) – "Talk about being put out of our misery."
The Readers Choice Award this week goes to:
(Paul Hooson) – "Well, at least they had a gay old time."
Best Banter Weight:
(Brian Brandt) – "When they get older that can be the 8 women of menopausal skanks –
Itchy
Bitchy
Sleepy
Sweaty
Cranky
Bloated
Psycho
All Dried Up"
Best Sunday-11th Hour entry:
(RadiCalMan) – "🎶 We aren't the champions, my friends
And we'll go down whimpering in the end
We aren't the champions
We aren't the champions
No time for losers
'Cause we aren't the champions…anymore!🎶"
Best "Where's Jackie?":
(Rick Adams) – ""That's Bidenomics.""
Best "Throbbing Mattress Kitten":
(yetanotherjohn) – "Stay away from me you throbbing, astroturf kittens."
Best Reference to a previous caption contest:
(cathymv) – "These are not the scottish dancing girls anyone is looking for"
AND
(Mary Gehman) – "Something tells me we're not in BarbieLand anymore…"
Most Inappropriate:
(RockThisTown) – "Rapinoe . . . "Scuse me, while I kick this out.""
That's all for today. A new edition of the Wizbang Weekend Caption Contest™ will debut Friday morning.