This week's Weekend Caption Contest™ reminds us we fought a revolution so two hundred years later the King can laugh it up with a POTUS whose conduct is straight out of the King George III playbook.
The assignment this week was to caption the following picture:


Here are the winning entries:
1) (Brian Brandt) – "Upper Class Twit of the Year, meet The Manchurian Cantaloupe."
2) (RockThisTown) – "Camilla! Kamala! Hasenpfeffer Incorporated!"
3) (McGeehee) – ""How many Santa Clauses do you Brits have!?""
4)(Bee Capu) –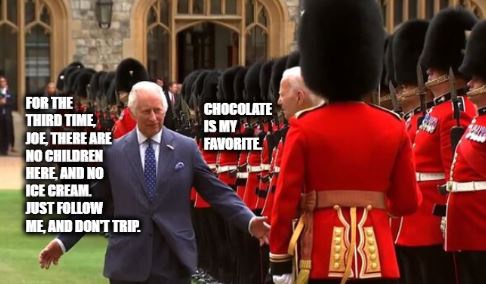 5) (Tom Morrow) – "Chuckles and Idiot Joey share that profound sadness when one's age surpasses one's IQ."
6) (Retired military) – "Charles "Why can your govt find and identify hundreds of people who were inside the capital on Jan 6th but not identify who left cocaine in an 8 X 10 room in one of the most guarded buildings in the history of man?""
The Readers Choice Award this week goes to:
(Mary Gehman) – "Biden: "So…how is your mum doing these days…???""
Best Kamala:
(guido81_MA) – "Mr. President, allow me to introduce you to my wife, Camilla.
Oh, for Christ's sake, Chuck, spare me, I'm sick of her, man. My biggest mistake was making her vice president. I'm not joking. If you gave me all the fellatio in China and I won't make that mistake again."
Best Banter Weight:
(yetanotherjohn) – "Joe is the snifter, the small child is the sniftee."
Best Sunday-11th Hour entry:
(Par4Course) – "And my guards know how to keep coke out of Buckingham Palace."
Best Reference to a previous caption contest:
(RadiCalMan) – "What's happened to the dancing Scottish lassies? I haven't seem them since Mum passed."
Most Inappropriate:
(Joe_Miller) – "Tampon King, Tampon Hats."
That's all for today. A new edition of the Wizbang Weekend Caption Contest™ will debut Friday morning.