This week's Weekend Caption Contest™ reminds us how serious the Democrat leaders' are about addressing crime and its impacts on victims and their families.
The assignment this week was to caption the following picture:


Here are the winning entries:
1) (McGeehee) – "There once was a pol from New York
Who could never put down a fork
After eating chili dogs
He produced some logs
And put his adult diaper to work"
(Mary Gehman) – ""…press one for english…press two for Biden's gibberish…press three for malarkey…""
2) (KaptainKrude) – "And I thought Ozzy Osbourne was hard to understand!"
(RadiCalMan) – "The Demoncrats are receiving their daily playbook instructions:
It's all Trump's fault and Russia, Russia, Russia!"
3) (RockThisTown) – "Jerry discovers Door Dash."
(guido81_MA) – "Flash the Bat Signal, The Penguin & Catwoman are up to no good."
4)(Kenny Moore) – "Just going online to Bragg how much we care about your children being murdered."
(BluesHarper) – "I knew they couldn't be using their own brains."
5) (patriciamcc) – "The brain trust of the House playing Pokemon."
(cathymv) – "I see the woke leftists in Hollywood remaking of the Blob sucks"
6) (Bee Capu) –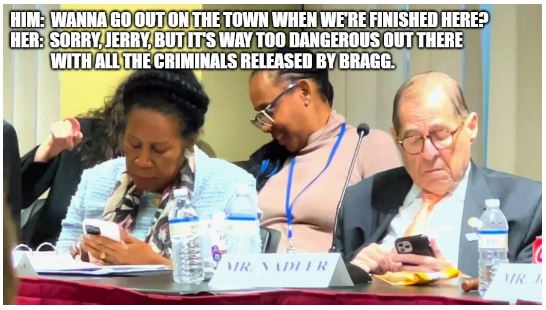 (ulley) – "If synchronized sleeping at meetings was an olympic event the USA would win the gold medal everytime."
The Readers Choice Award this week goes to:
(retired military) – "These three make me rethink my stance on abortion"
Best Banter Weight:
(rodney dill) – "Both: "WTF is my picture doing on WizBangBlog?""
Best Sunday-11th Hour entry:
(Paul Hooson) – ""I wonder what sort of crappy Paul Hooson jokes are on the caption contest this week?"."
Best "Throbbing Mattress Kitten":
(yetanotherjohn) – "For him, she is all the throbbing mattress kitten he can handle … or deserves."
Best Reference to a previous caption contest:
(retired military) – "I hope these aren't Swedish dancing girls I heard about"
Most Inappropriate:
(yetanotherjohn) – "The eskimos used to send their old people out to sea on a drifting iceberg … I'm just sayin' we can learn stuff from indigenous people."
That's all for today. A new edition of the Wizbang Weekend Caption Contest™ will debut Friday morning.