This week's Weekend Caption Contest™ brought out the "dropped the baby" and the "get in mah belly" jokes as well as a number of other great ones.
The assignment this week was to caption the following picture:


Here are the winning entries:
1) (RockThisTown) – "They're speaking each other's language . . . gibberish."
(ulley) – "Why does he keep calling me Kim Jong-un."
2) (guido81_MA) – "You're not too old to be aborted, Jack! Not a joke, who'd your parents vote for?"
(Joe_Miller) – "He can hold a stranger's baby, but not his grandchild from Hunter and the stripper. He's a dirtbag."
3) (Blues Harper) – "Biden meets Leo DiCaprio's new girlfriend."
(retired military) – "Biden called a press conference so everyone could meet his new speech writer"
4)(yetanotherjohn) – "Joe interviews Justice Department's prime witness against Trump."
(Mick McMick) – ""Mister, you just got MY grandchildren into debt!""
5) (Kenny Moore) – "Let go Brandon."
(Kaptain Krude) – ""Come on, kid. I'll go buy you a pudding.""
6) (Par4Course) – "Both have the same IQ but one is rising and the other falling."
(Rick Adams) –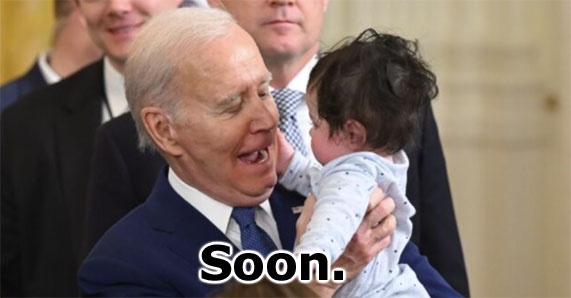 The Readers Choice Award this week goes to:
(rodney dill) – "Both stink and need to be changed."
Best "Jill Biden's Fashion Tips":
(Mary Gehman) – ""I did not know they made fishnet diapers…""
Best Banter Weight:
(BeeCapu) – "With great humility, badge accepted. It would be fun to invite all of the FB ex-cons to post the messages and pics that landed them in the FB pokey. My rap sheet includes posts on J. Dahmer and H. Biden."
Best Sunday-11th Hour entry:
(McGeehee) – "Just before he spit up on her."
Best Reference to a previous caption contest:
(yetanotherjohn) – "Jill gets prince Harry and Joe gets his princess."
Most Inappropriate:
(RadiCalMan) – "Oh Baby! You make the hair on the back of my leg stand up!"
AND
(Tom Morrow) – ""Do you like gladiator movies? Do you like feeling hairy legs?""
That's all for today. A new edition of the Wizbang Weekend Caption Contest™ will debut Friday morning.