This week's Weekend Caption Contest™ celebrates the magic of Valentine's Day.
In D.C.
The assignment this week was to caption the following picture:


Here are the winning entries:
1) (guido81_MA) – "Dr. Jill performs a tonsilectomy."
(cathymv) – "I swear to god, I just gagged and vomited at the same time, I gavomited……"
2) (Kenny Moore) –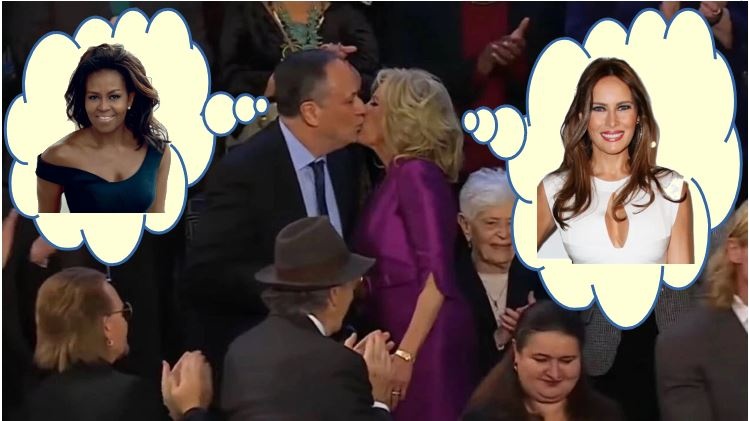 (ulley) – "Leave them they`ll soon find out this isn`t oral sex."
3) (Porkopolis) – "Get a Cloakroom!"
(Par4Course) – "Can you really blame either of them?"
4)(Joe_Miller) – "State of the Union or State of Two Unions?"
(patriciamcc) – "YUCK!"
5) (KaptainKrude) – "And with a romantic flourish, Jill's frozen heart warmed up like a rose bush undergoing climate change as her grandmother lips met Daniel's in a passionate kiss. "Damn," thought Daniel as his prize finally lay within his grasp, "I don't regret paying the extra 10% climate charge at all!""
(Rick Adams) – "Look, don't get excited; she's a doctor."
6) (yetanotherjohn) – "Purple people eater"
(Nipperdoodle) – ""Oh, yeah! Lay it on me, baby!""
The Readers Choice Award this week goes to:
(Bee Capu) –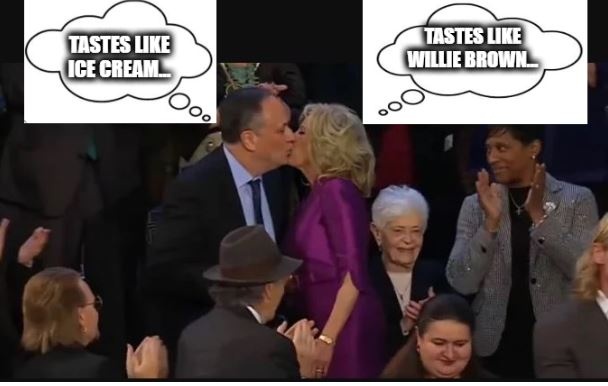 AND
(RockThisTown) – "FLOTUS + SGOTUS = FUGGEDABOUDUS"
Best Kamala:
(RadiCalMan) – "Who do I have to blow to get this beeoch off my lips!"
Best Banter Weight:
(rodney dill) – "…failed miserably with the Santos/Romney segment."
Best Sunday-11th Hour entry:
(retired military) – "And like the Eagles Jill choked."
Best "Where's Jackie?":
(Brian Brandt) – "Meanwhile, at the podium, Joe drones on about how progressive culture is so great for our values.""
Best Reference to a previous caption contest:
(yetanotherjohn) – "Wait tell she shows him the hat she picked up in London."
Most Inappropriate:
(Mary Gehman) – ""Got MILF???""
AND
(Blues Harper) – "Is that Doug Emhoff – Jack's brother?"
That's all for today. A new edition of the Wizbang Weekend Caption Contest™ will debut Friday morning.