This week's Weekend Caption Contest™ actually featured competition for the Too Soon Category. The Previously-Rare-Too-Soon Award is going to be the plain old Too Soon Award at this rate.
The assignment this week was to caption the following picture:


Here are the winning entries:
1) (Joe_Miller) – "The last three kids on the planet without cell phones."
2) (BluesHarper) – "Well, we couldn't afford to egg the house."
3) (Tom Morrow) – "This used to be a male snow octopus until they removed its snowballs."
4)(Porkopolis) – ""Release the Kracken!"
— Sidney Powell"
5) (2klbofun) – "I'm not sure what those folks at Davos are doing, but I bet this is the first step to world domination."
6) (njcons) – "Privileged white kids (raising money for fresh water for Haitians) flout their whiteness during MLK week just days before Black History month. DOJ to investigate hate crime."
The Readers Choice Award this week goes to:
(retired military) – "Damn that is almost as much snow as Hunter Biden goes through in a week."
Best Song Parody:
(RadiCalMan) – "🎶 I'd like to be under the snow
In an octopus's snowbank in the winter
He'd let us in, knows where we've been
In his octopus's garden in the snowbank
I'd ask my friends to come and see
An octopus's snowbank with me
I'd like to be under the snow
In an octopus's snowbank in the winter
We would be warm below the snow
In our little hide-a-way beneath the clouds
Resting our head on the sea bed
In an octopus's garden near a snow drift
We would sing and dance around
Because we know we can't be found
I'd like to be under the snow
In an octopus's snowdrift in the winter
We would shout and ski about
The coral that lies beneath the snowbanks
Oh, what joy for every girl and boy
Knowing they're happy and they're free 🎶"
Best Banter Weight:
(Mike) – "With Bill, it was pay for Playroni's disease."
Best Sunday-11th Hour entry:
(BeeCapu) –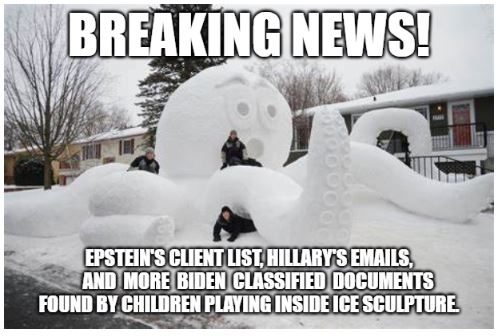 Best "Where's Jackie?":
(Par4Course) – "Snow octopus (snoctopus?) with Joe Biden's expression every time he's reminded that he's the President.""
Too Soon Award
(Paul Hooson) – "How can anyone possiby play in the snow and not think about the late David Crosby?"
Most Inappropriate:
(yetanotherjohn) – "Based on his face, someone has been putting the 'O' in Octopus."
That's all for today. A new edition of the Wizbang Weekend Caption Contest™ will debut Friday morning.