This week's Weekend Caption Contest™ reminds us that if you're corrupt and rich enough, you too can have a portrait of yourself in the House! Thank you all for appreciating my Medusa reference.
The assignment this week was to caption the following picture:


Here are the winning entries:
1) (Joe_Miller) – "Nobody's gluing their hand to THAT!"
(rodney dill, Kaptain Krude, yetanotherjohn, Mike, patriciamcc, Paul Hooson) – Dorian Grey references
2) (cathymv) – "Are you a bad witch or an evil witch?"
(Porkopolis) – "Hey Boehner!…Cry me a river!"
3) (Paul Hooson) – "Guess what some unlucky relative is getting for Christmas?"
(Bee Capu) –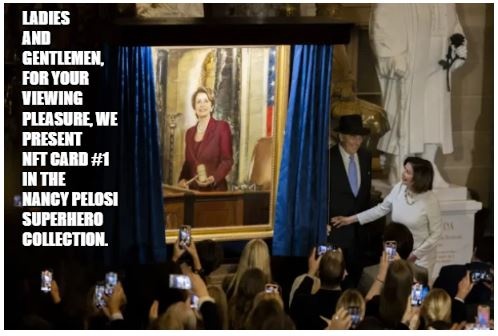 4)(BluesHarper) – "The first portrait of artificial unintelligence."
(Vagabond661) – "Someone photoshop the house on top of the witch in Wizard of Oz."
5) (Brian Brandt) – "They say the camera adds ten pounds. A portrait in oil subtracts twenty and gives the subject a boob job."
(Par4Course) – "When the new House convenes in January, they'll vote to display the picture with the curtain closed."
6) (RockThisTown) – ""Could you lower the lighting please . . . lower . . . lower . . . keep going . . . lower. Ok now, complete darkness . . . that's perfect!""
(ulley) – "Just as we thought she was well oiled again."
The Readers Choice Award this week goes to:
(guido81_MA) – "Would love to see Trump47 tear that sucker in half at the 2025 SOTU."
Most Inappropriate
Each and everyone of you degenerates who posted a hammer reference.
Best Banter Weight:
(EricSteel) – "No, they multiply when you get them wet. Which is a confusing rule, see Wizard of Oz. Which begs the question, is Nancy Pelosi a Gremlin or a Witch?"
Best Sunday-11th Hour entry:
(Mary Gehman) – ""Is it painted on velvet…you know…like all those Elvis paintings???""
Best reference to a previous caption contest:
(McGeehee) – ""I love it! Thank you for airbrushing out the budgies.""
Best "Ho! Ho! Ho!":
(Retired military) – "Why can't you have Santa at the House Christmas party?
Becuase every time he says "HO HO HO" Kamala sticks her head up and says "you called""
That's all for today. A new edition of the Wizbang Weekend Caption Contest™ will debut Friday morning.