This week's Weekend Caption Contest™ reminds us that money and status can't buy taste. Again.
The assignment this week was to caption the following picture:


Here are the winning entries:
1) (cathymv) – "I hate that these people make me like Hillary better….."
(EricSteel) – "♫ Throw out your hands
Stick out your tush
Hands on his hips
Give him a push
You'll be surprised
You're doing the French Mistake
VOILA! ♫"
2) (guido81_MA) – "Lafayette, where am I?"
(Vagabond661) – "Biden: Is that a hammer behind my back or are you just glad to see me?"
3) (ulley) – "Welcome to Madam Tussauds House of Horrors."
(Joe_Miller) – ""Merde beaucoup!""
4)(yetanotherjohn) – "Mrs. YAJ's first reaction was "Boy, she's mad." referring to Brigitte."
(Mike) – "Joe: "Up for a little "Bob, Carol, Ted and Alice?""
5) (Porkopolis) – "Cherchez la femme"
(Bee Capu) –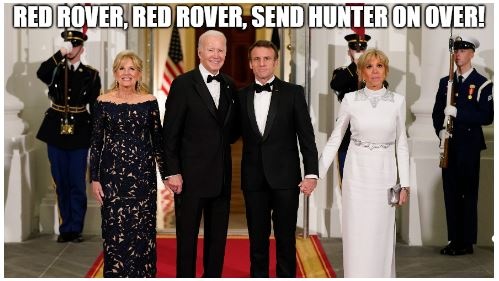 6)
(Blues Harper) – "I want to see hands."
(rodney dill) – "In a tight spot Brigitte's gown also serves as the national flag of France."
The Readers Choice Award this week goes to:
(McGeehee) – "Raindrops on roses and whiskers on kittens
Fabrics from sofas for the style-unsmitten
Trunalimunumaprzure and — you know, the thing
That's Joe's fav'rite Christmas carol to sing"
Best Use of a Movie Quote
(Rick Adams) – ""Mr. President, please quit humming 'Les Poissons.' under your breath.""
Best Song Parody:A:
(Tom Morrow) – "Soiling tuxedos and tripping on plane stairs,
Being a disaster at foreign affairs,
Saying I was a trucker though I never was,
That's what a traitorous lying f**ktard does.
When the press fawns, asking softballs,
I still can't remember sh*t
That's mainly because I'm a lying dumb-ass, a demented old half-wit."
Best All I want for Christmas:
(retired military) – "Marine "All I want for Christmas is a hand grenade and 5 seconds""
Best Sunday-11th Hour entry:
(Brian Brandt) – ""The White House dining room. You will never find a more wretched hive of scum and villainy.""
Best Fetterman Inspired:
(RockThisTown) – "Which would be the best Christmas present . . . a lump of coal or Fetterman?
Too close to call."
Best "Ho! Ho! Ho!":
(RadiCalMan) – "If we all shout "Ho! Ho! Ho!" together, maybe we can find out where Kamala has gone to!""
Best Under the Tree:
(Mary Gehman) – "Just imagine waking up on Christmas morning only to find these four under the tree…ew…"
That's all for today. A new edition of the Wizbang Weekend Caption Contest™ will debut Friday morning.