This week's Weekend Caption Contest™ reminds us that every photo op is a chance to make another stupid point.
The assignment this week was to caption the following picture:


Here are the winning entries:
1) (Joe_Miller) – "Worst Trick or Treating ever."
(cathymv) – "You get a word salad…..and you get a word salad….you all get a word salad!!!!"
2) (rodney dill) – ""What do I like best so far? Well, the turkey pardoning was entertaining. President Biden picked up one of the birds and tried to play it like a bagpipe.""
(Blues Harper) – "Not so bad compared to what politicians usually expect us to swallow."
3) (Patrick_McHargue) – "Have some green new deal!"
(Brian Brandt) – "Kamala thought bubble: Let's move it, kid. I gotta get through this photo op and get back to destroying the country."
4)(Tom Morrow) – ""Broccoli??? You heartless bitch!""
(Rocket Scientist) – "And a broccoli for you! And a broccoli for you! and for you! And ….!"
5) (guido81_MA) – "Little girl: Ho-Ho-Ho!
Kamala: These aren't Green Giant vegetables.
Little girl: I know."
(Kaptain Krude) – "Here you go, sweetie! A little bit of green for you!
KId: You're so dumb!
Yeah, this is how we used to get paid! A little cabbage for you!
Kid: That's not how…
Aw, you're so welcome!
Kid: You've really Kamala'ed things up!
Aw, you hear that? I've become a figure of speech!"
6) (Bee Capu) –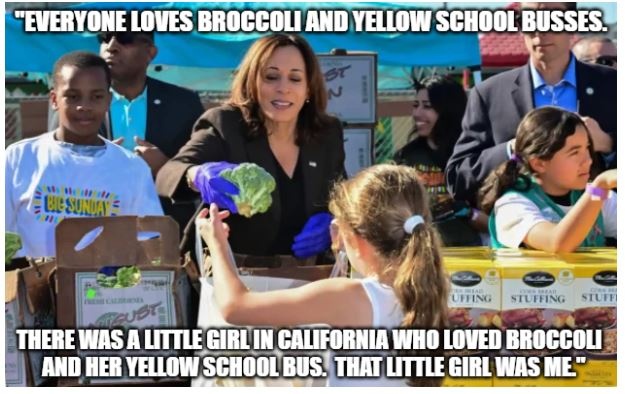 (Par4Course) – "NY Times headline: White privilege prevails at farmers' market."
The Readers Choice Award this week goes to:
(Mary Gehman) – ""It's a vegetable, sweetie…you know…just like your President….""
Best Use of a Movie Quote
(yetanotherjohn) – "The Broccoli Horror Picture Show"
Best Song Parody:
(Mike) – ""Hey Kamala! How do you get along with Joe?
"Plant a radish, get a radish, not a Brussel sprout.
That's why I love vegetables you know what you're about!""
Most Inappropriate:
(RadiCalMan) – "Here kid, have some broccoli… and for my next trick, let me show you how to suck all of the stuffing out of these boxes!"
Best Holiday Shopping:
(ulley) – "Tell your daddy today it is buy one get me free."
Best Thanksgiving:
(RockThisTown) – ""Which vegan turkey leg would you like, Pfizer or Moderna?""
Best Sunday-11th Hour entry: (Or Monday in this case)
(retired military) – "Harris "This contest was supposed to end last night but like all democrat voters we will keep on sneaking in entries until we wiin""
Best Fetterman Inspired:
(McGeehee) – ""They told me there would be vegetables, so naturally I expected Biden and Fetterman to be here.""
That's all for today. A new edition of the Wizbang Weekend Caption Contest™ will debut Friday morning.