This week's Weekend Caption Contest™ highlights the face that millions of people in America don't understand cause and effect. But, boy, are they about to.
By the way-great job, McConnell, McCarthy, and McDaniels. It's great how you were able to put your petty differences with conservative Republicans aside and work for what was best for America. It shows such a level of maturity and wisdom that true leadership provides.
Just kidding. You three are responsible for the results of the next two years.
The assignment this week was to caption the following picture:


Here are the winning entries:
1) (Par4Course) – "Clueless but smug."
(patriciamcc) – "Evil personified."
2) (guido81_MA) – "He looks like perhaps there are small kids rubbing down his hairy legs that turn blonde in the sun, just out of camera frame."
(BluesHarper) – "The face you make when you know you can get by with anything."
3) (RockThisTown) – "Oh, look. The banjo player from Deliverance grew up to be President."
(retired military) – "A secret service agent was hospitalized after throwing himself on top of a clue which was threatening to hurt President Biden"
4)(Mike) – "I'm going to run with that guy Fetterman in '24. Then they'll REALLY not have the guts to impeach me!"
(Tom Morrow) – ""Constitution? I don't need no stinkin'… uh… thing.""
5) (EricSteel) – "That look you get when you hear the ice cream truck!"
(Porkopolis) – "One-eyed Hack"
6) (Joe_Miller) – ""Inflation and crime are always popular. No joke.""
(rodney dill) – "Every day, in every way, I'm getting better and better."
The Readers Choice Award this week goes to:
(Bee Capu) –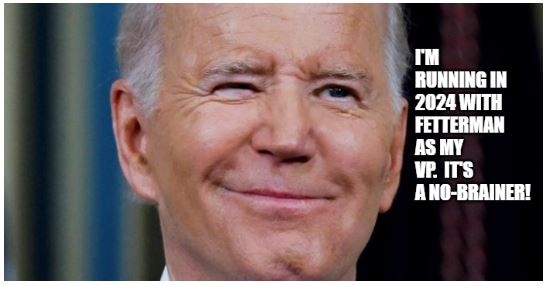 Best Use of a Movie Quote
(RadiCalMan) – "To insanity and beyond!"
Best Song Parody:
(Mary Gehman) – ""Lord, was born a ramblim' man…I'm lying, speakin' gibberish and doing the best I can.
And, when it's time for deceiving, I hope y'all understand…that I born a Scranton man…""
Best Election Related:
(Kaptain Krude) – "Well, that was a pretty good election, eh? *wink* Totally surprising, wasn't it? *wink* Boy, there was sure a lot of drama, eh? *wink* What a surprise that they're still counting where Democrats have control, isn't it? *wink* I'm so surprised, aren't you? *wink* Why, *wink*, you would almost think *wink* that the results are being *wink* made up as we go along, *wink*, wouldn't you think so? *wink* Why, you should stay tuned, *wink* for the shocking *wink* unexpected *wink* twists and turns *wink* that are completely *wink* unforeseen!
Don't you agree? *wink*"
Best Sunday-11th Hour entry:
(ulley) – "The FBI release the latest most wanted list."
Best Fetterman Inspired:
(Brian Brandt) – "Thanks to Fetterman I'm no longer the dumbest man in Washington."
Best "As God Is My Witness…":
(yetanotherjohn) – "As God is my witness, I did not think this Turkey could fly.""
Best Malarkey :
(McGeehee) – """It's two years to the next election, my voters have half a tank of gas between them, they can't buy groceries, it's dark, and I just crapped my pants. Hit it."
That's all for today. A new edition of the Wizbang Weekend Caption Contest™ will debut Friday morning.