This week's Weekend Caption Contest™ features something that probably offends someone somewhere and will inevitably get cancelled.
The assignment this week was to caption the following picture:


Here are the winning entries:
1) (guido81_MA) – "Kamala Brau – It gives a lot of head to make up for its lack of substance."
(Brian Brandt) – "The beer will be the warmest thing in Germany this winter."
(cathymv) – "Looks like the mourning period is over for the Queen"
2) (yetanotherjohn) – "80 years ago Germans had a whole different way of getting bombed."
(Mike) – "The beer shortage in Joe Biden's America was worse than they thought, as patrons vie for the last mug of beer in America."
(Mary Gehman) – ""…I don't always drink beer…but, when I do, it usually means using my one phone call to my parents for bail money…""
3) (Retired military) – "Residents of Martha's vinyard party as the immigrant busses drive off."
(Kaptain Krude) – "How many Germans see the creation of the first man and woman."
(Paul Hooson) – "The Berlin Pants Lift?"
4)(Dusty Pitts) – "On the fourth day of Oktoberfest my fräulein gave to me
Another beer"
(McGeehee) – "Oktoberfetch."
(Tom Morrow) – ""Nein! Nein!"
"Well, here's your first one. Eight more coming up!""
5) (Vagabond661) – "Before her top came off…."
(rodney dill) – "Why Munich was chosen for the world leader September symposium on global warming."
(ulley) – "Noboby does urine sample tests like the Germans."
6) (Blues Harper) – "When you can't wait till October to celebrate Oktoberfest."
(Porkopolis) – "Head For The Shrill"
(RockThisTown) – "I'm applying for a grant to study the effects of brewing & drinking beer on climate change.
There MUST be a connection!"
The Readers Choice Award this week goes to:(Rick Adams) –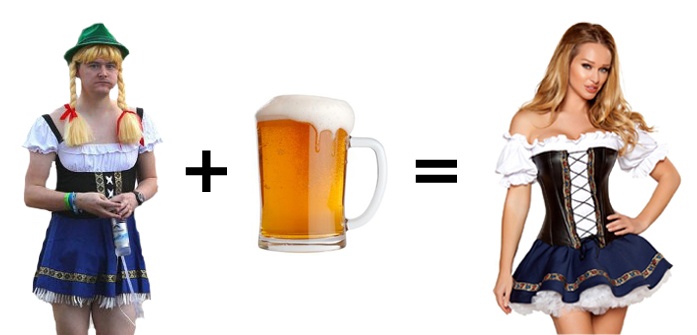 Most Inappropriate But Funny:
(Joe_Miller) – "Raises a question: Is it possible to get too much head?"
AND
(Blues Harper) – "Who doesn't like good head?"
Best Use of the Biden Caption of Choice (A Laugh and/or A Gaffe):
(RadiCalMan) – "This reminds me of Brandon Biden, all head foam and little substance."
Best Banter Weight:
(Brian Brandt) – "A skeleton walks into a bar and says, "Bartended, give me a beer . . . and a mop.""
Best Kamala:
(Mary Gehman) – ""Who do I have to blow around here for a real stiff one…""
Best reference to a previous caption contest":
(yetanotherjohn) – "I'm going to need a whole lot more beer before I get up the courage to start asking someone out"

That's all for today. A new edition of the Wizbang Weekend Caption Contest™ will debut Friday morning.