This week's Weekend Caption Contest™ reminds us that our national nightmare continues.
The assignment this week was to caption the following picture:


Here are the winning entries:
1) (retired military) – "Biden "At least the republicans and I agree on something""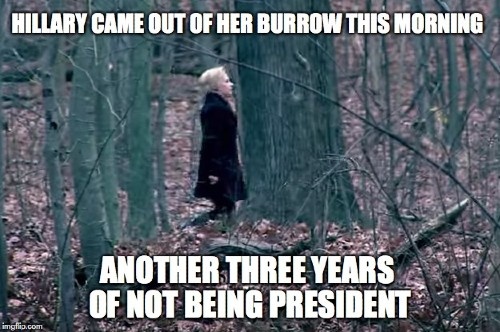 (RadiCalMan) – "Who is that masked man?
He's on a mission to make Jimmy Carter look good!"
2) (Olsoljer) – "…….and then……..and then, the Pope farted!"
(rodney dill) – ""C'mon man… You said we could play catch with the nuclear football.""
3) (Paul Hooson) – ""What Me Worry?"."
(Rick Adams) – ""Let me be clearfically pure…""
4)(Mary Gehman) – ""…I'm 'masked' as hell and I'm not gonna take it anymore…""
(guido81_MA) – "He's a complete boob, but only wears half a bra on his face."
5) (Nipperdoodle) – ""I can't answer any of your questions right now 'cause I gotta go. I mean, I really gotta GO!""
(ulley) – "Sir that is the Chandelier you are taking to."
6) (RockThisTown) – "Joe announces that he's appointing Whoopi Goldberg to the Supreme Court, saying,
"Look . . . she needs a job.""
(Porkopolis) – "Teddy Roosevelt's thought bubble:
BULLPUCKY!"
The Readers Choice Award this week goes to:
(Joe_Miller) – ""My poll numbers have fallen…and they can't get up!""
Most Inappropriate But Funny:
(EricSteel) – "When I was a young whipper snapper I always had to use my fingers when I counted. One day my teacher made put my hands in my pockets and asked me 5 + 5. To this day, I still get 11, when I do it."
Best Use of the Biden Caption of Choice (A Laugh and/or A Gaffe):
(Mike) – "So there I was…the first son of a coal miner, about to graduate from an all black college. Then Dolly Parton wrote a song about me, and that was the moment I knew I'd find a cure for cancer!"
Best use of the MAGA Caption of Choice:
(cathymv) – "I see that Hillary got one of those Biden masks….."
Best Banter Weight:
(Tom Morrow) – "How about a ball-gag, since Biden seems to have gone full gimp?"
Best Kamala:
(Mary Gehman) – ""Who do I have to blow around here for some hand sanitizer…""
Best reference to a previous caption contest:
(yetanotherjohn) – "Sorry Joe, but based on your approval rating polls, they are projecting selling only five 'Joe Biden' Halloween masks this year, not ten."
Best LGB:
(McGeehee) – ""Come on you cuties, let me hear you say it! No not the Brandon chant — the other one!""
That's all for today. A new edition of the Wizbang Weekend Caption Contest™ will debut Friday morning.