This week's Weekend Caption Contest™ shows us the one person in America feeling really lucky right now.
The assignment this week was to caption the following picture:


Here are the winning entries:
1) (guido81_MA) – "Good Lord, he even stammers when he tries to flip you the bird."
AND
(EricSteel) – "He even stutters when flipping the bird."
(ulley) – "Breaking news the presidents Hand Puppet kidnapped."
2) (Rick Adams) – ""Sxx? X gxt thx jxb xnd X dxn't sxx whxt xll thx fxss xs xbxxt. Nx sxdx-xffxcts xt xll!""
(rodney dill) – "The ASL sign for "Out of Service.""
3) (RadiCalMan) – "Just call me Brandon!"
(Vagabond661) – "When Biden plays with superglue."
4)(fustian24) – "That Afghanistan thing was so successful, Biden is planning to withdraw the troops from West Point and Annapolis!"
(Joe_Miller) – ""AOC and Schumer did this to me last Friday.""
5) (Mary Gehman) – ""…And you thought only my tongue was twisted…""
(RockThisTown) – "Hope and strange."
6) (cathymv) – "Joe Biden sending gang hand signals to Corn Pop"
(Par4Course) – "President Biden demonstrates his alternative to wearing a mask."
The Readers Choice Award this week goes to:
(Dusty Pitts) – "Oddly enough, that's how he was holding up his right hand while taking his oath of office."
Most Inappropriate But Funny:
(Brian Brandt) –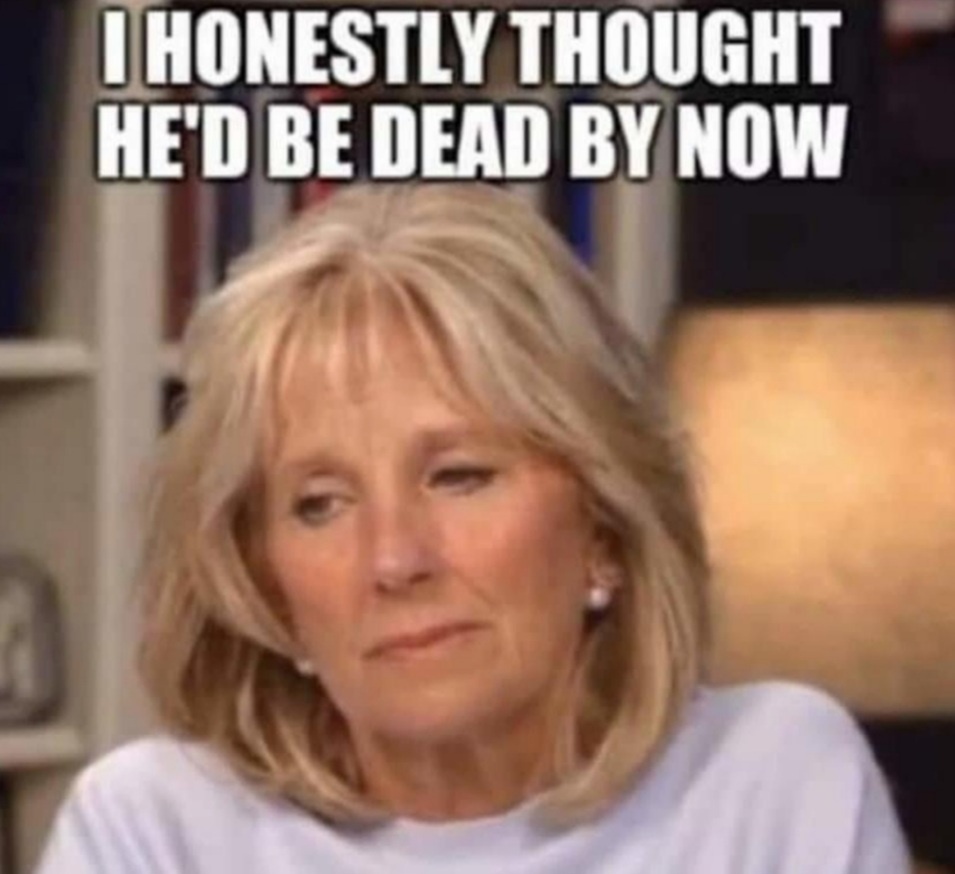 Best Use of the Biden Caption of Choice (A Laugh and/or A Gaffe):
(Mike) – "Putin taught me this. It's our secret handshake!"
Best use of the MAGA Caption of Choice:
(KaptainKrude) – "I promise, you'll get the nomination next time, Hillary!"
Best Banter Weight:
(yetanotherjohn) – "Oh, so when he promised to obey the constitution he had his fingers crossed … that explains a lot actually."
Best Kamala:"
(Retired military) – "Reporter "How do you know that Kamala said no?"
Biden "Her legs look like this""
Best Limerick:
(fustian24) – "There once was a Prez who's a cheat.
And even his son's a deadbeat!
But with fingers like those,
All tied up in bows,
There won't ever be a mean tweet!"
Best reference to a previous caption contest:
(McGeehee) – ""Next weekend's caption photo may be of that hottie, Angela Merkel again!""
That's all for today. A new edition of the Wizbang Weekend Caption Contest™ will debut Friday morning.