This week's Weekend Caption Contest™ inspired a deluge of comments. As we went over the magic 300 number, we have triple winners! I appreciated everyone's efforts this week given how dark our day to day American experience currently is. God watch over our fallen soldiers and their families.
The assignment this week was to caption the following picture:


Here are the winning entries:
1) (Rick Adams) – ""Muhammed?'
"Yes?"
"Yes?"
"Yes?"
"Yes?"
"Yes?"
"Yes?"
"Yes?"
"Yes?"
"Yes?"
"Yes?"
"Yes?"
"Yes?""
(McGeehee) – ""Kasim, do you mind not pointing that rifle at our Fourth Esteemed Holy Chairperson of the Blessed Once and Future Caliphate?"
"Don't worry, it's not loaded, see?"
[…]
"All hail the Fifth Esteemed Holy Chairperson of the Blessed Once and Future Caliphate!""
(Retired military) – "Man sitting "Okay the first thing we do is declare war on the US so that we can apply for foreign aid""
2) (Paul Hooson) – "This photo sums up the successes of the Biden foreign policy…"
(Joe_Miller) – ""Mohammadi, there's a woman outside demanding to speak to the manager. She says her name is Karen.""
(RockThisTown) – "'This meeting of the Kabul Chapter of 'Death to America' has a quorum & will now come to order. First item on the agenda is . . . Death to America.'"
3) (Mike) – "Top Dogs!"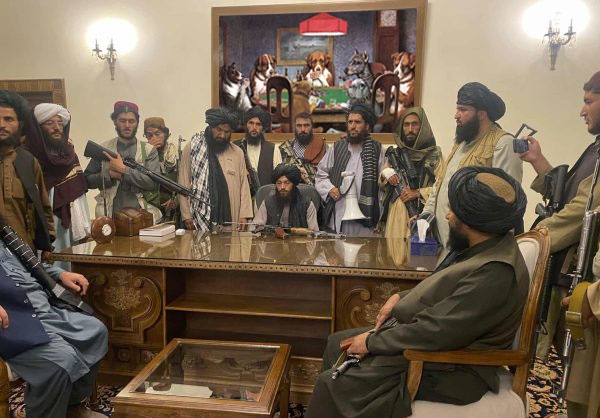 (Par4Course) – "Before we get into the Death to America stuff, let's go around the room and have everyone state their pronouns."
(rodney dill) – ""Whoever rick-rolled our website is going to die like an infidel dog.""
4)(fustian24) – "I'm glad Biden isn't negotiating with terrorists.
Instead, he's just giving them what they want."
(cathymv) – "Joe Bidens new Cabinet!"
(Vagabond661) – ""So, first order of business. Who has not been vaccinated?""
5) (Brett Buck) – "The largest assemblage of Taliban leaders have assembled at the former Presidential Palace (GPS coordinates: 34°31′25″N 69°10′44″E 5892 feet ASL)"
(Blues Harper) – ""We don't need no stinkin' badges.""
(Porkopolis) – "Robert's Rules of Dis-Order"
6) (Tom Morrow) – ""Now let's troll them by doing a pose of the signing of the Declaration of Independence!""
(guido81_MA) – "I say, now we tell Biden to grow a beard….or else."
(RadiCalMan) – "The "Guantanamo Fourteen": Ok, we've got the gang back together boys!
"
The Readers Choice Award this week goes to:
(EricSteel) – ""Break time at the Vehicle Extended Warranty Call center.
Most Inappropriate But Funny:
(Everyone)
Best Use of the Biden Caption of Choice (A Laugh and/or A Gaffe):
(Brian Brandt) – "Biden 2024 campaign slogan: C'mon man! Admit it! You really want to see just how bad it can get!"
Best use of the MAGA Caption of Choice:
(KaptainKrude) – ""Okay, okay. Here's one. Tell President Sleepy that the only way that we will accept his terms is if he steps down, and Hillary Clinton becomes President."
'No! No way! Not even Joe would be stupid enough to fall for tha…. Hillary???? Is that you?'
The evil cackle that answered him chilled many a man's blood that night, and the survivors would all wake up in a cold sweat screaming,"there's no way Hillary Clinton will ever be President!""
Best Banter Weight:
(Mary Gehman) – "They stole those bath towels from 'Bed, Blood-Bath and Beyond'…"
Best Kamala:
(engineer) – "Ahmed: "What goat do I have to blow around here to be the leader?"
Muhammod: "Hillary."
Ahmed: "I am volunteering for suicide bomber duty.""
Best reference to a previous caption contest:
(yetanotherjohn) – "Biden announces his new policy on Afghanistan"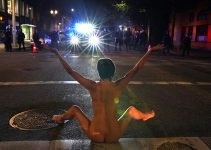 That's all for today. A new edition of the Wizbang Weekend Caption Contest™ will debut Friday morning.