This week's Weekend Caption Contest™ features the biggest threat to America since Donald Trump had two scoops of ice cream.
The assignment this week was to caption the following picture:


Here are the winning entries:
1) (retired military) – "Hillary who will never be President sneaks into the capital in disguise"
(rodney dill) AND (pokopolis)- "Y… M… C A !"
2) (Brian Brandt) – "Yard sale at the Capitol."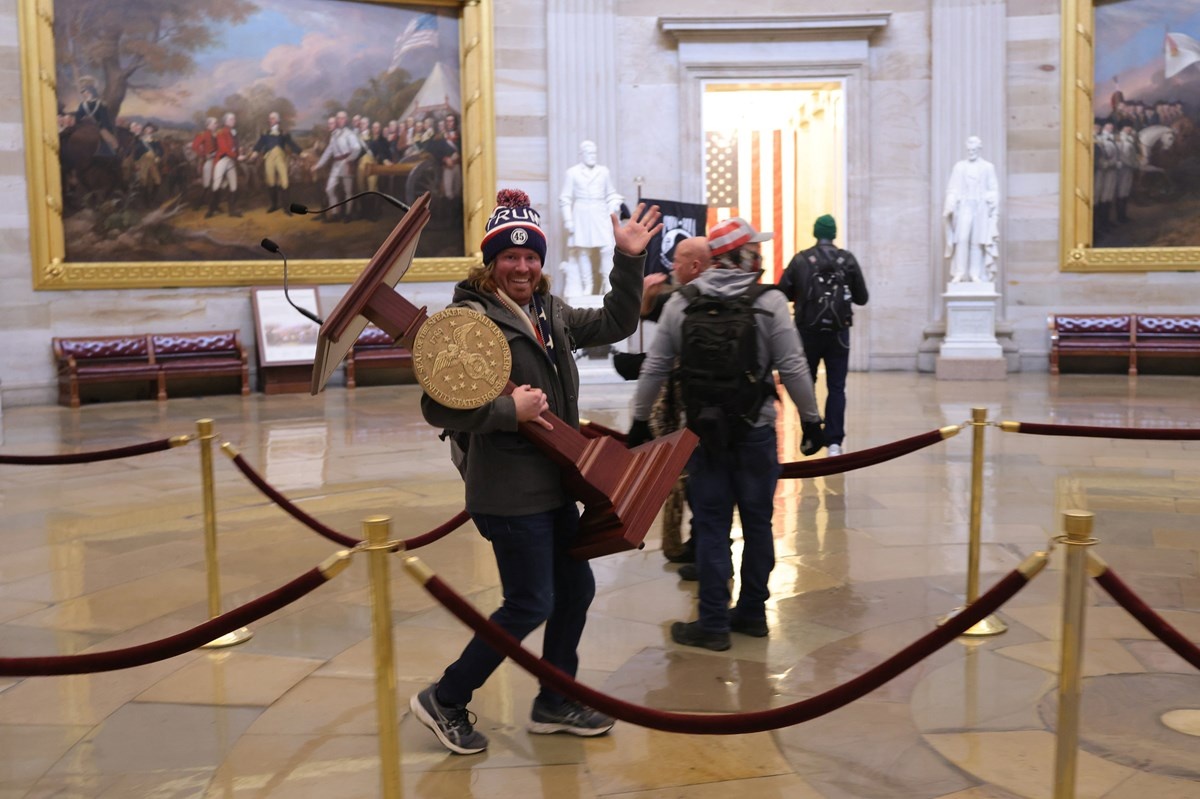 (RockThisTown) – "'Where da Nordic women at?'"
3) (yetanotherjohn) – "2021 starts off trying to prove 2020 was a wimp."
(Paul Hooson) – "CroMAGAman?"
4)(Rick Adams) – ""Listen, strange buffalo distributing flags is no basis for a system of government!""
(cathymv) – "Looks like Nancy can use a little waxing"
5) (RadiCalMan) – "Awoman! Our prayers have been answered!"
(citizenpain1) – ""ATTENTION EVERYONE….Don't eat the brownies from the cafeteria. They contain something.""
6) (fustian24) – "Now, raise your hands if you're antifa, so we can get you safely out of here before we start arresting people…"
(DJD60_TX) – ""We are here to kick ass and chew bubble gum … and we ain't got no bubble gum""
The Readers Choice Award this week goes to:
(Mary Gehman) – ""It was easier to get in here than Walmart on Black Friday…""
Most Inappropriate But Funny:
(rodney dill) – ""Hey, AOC! We finally found someone willing to mate with you.""
Best use of the Trump Administration Caption of Choice:
(fustian24) – "They weren't able to hold this month's meeting of the Never Going to be President club because nobody could haul Hillary's fat ass up the stairs…"
Best Banter Weight:
(Joe_Miller) – "This guy is my new hero. Here he displays the same kind of contempt for Pelosi that she shows for us."
Best "Who Do I Have to Blow…":
(McGeehee) – "Capitol protester, at center, asks, "Which of my horns do I have to blow to win the Wizbang caption contest?""
That's all for today. A new edition of the Wizbang Weekend Caption Contest™ will debut Friday morning.