This week's Weekend Caption Contest™ is brought to you by prayer, patience, and patriotism. Now, everyone wave "Hello" to AOC and her Stasi.
The assignment this week was to caption the following picture:


Here are the winning entries:
1) (guido81_MA) – "Okay, who ordered the 130 thousand Bidens and a Diet Coke?"
(Joe_Miller) – ""You don't think we're wearing masks because of the virus, do you?""
2) (Rick Adams) –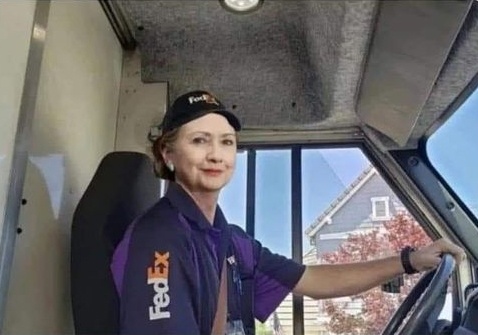 (rodney dill) – ""Special delivery from Hillary Clinton!""
3) (Brian Brandt) – "Who says the Democrats can't produce good-paying manufacturing jobs."
(yetanotherjohn) – "Exactly where is "What happens in Philadelphia, stays in Philadelphia" in the constitution?"
4)(Walter_Cronanty) – "Worker 1: "Which precincts did those boxes of ballots come from?"
Worker 2: "George Soros'""
(Vagabond661) – "Ballot Lies Matter"
5) (Mary Gehman) – "Pennsylvania just changed it's slogan from 'The Keystone State' to 'The Cluster-Fuck State'…"
(fustian 24) – "…and we're calling Pennsylvania for the democrat through the next two decades!"
6) (RadiCalMan) – "I see dead people voting!"
(Mike) – "Uber Votes was a lot more successful than its founder ever imagined!"
The Readers Choice Award this week goes to:
(RockThisTown) – ""Chad, party of 130,000! Chad!""
AND
(Retired military) – "The boxes of emergency democrat votes have arrived"
Most Inappropriate But Funny:
(engineer) – ""Special delivery from Kamala, votes from all the people she slept with.""
Best use of the Trump Administration Caption of Choice:
(retired military) – "Dem poll worker "Well these votes for Hillary are 4 years late. Guess she will never be President""
Best Banter Weight:
(Par4Course) – "Sleepy Joe takes a lesson from Uncle Joe."
Best "Who Do I Have to Blow…":
(Brian Brandt) – "Joe: Who do I have to blow to get me out of this hammock? And how could I do it while I was in this hammock? I'd have to be out of the hammock. And if I was out of the hammock I wouldn't have to blow anybody.
Wait . . . what was I talking about? I think I'll just lay in this hammock until somebody comes along and gets me out."
The Rare "Too Soon" Award:
(Paul Hooson) – ""Thank God Alex Trebek isn't alive to see this!".
That's all for today. A new edition of the Wizbang Weekend Caption Contest™ will debut Friday morning.