This week's Weekend Caption Contest™ celebrates the mute button. Be grateful there is no sound with the featured picture.
The assignment this week was to caption the following picture:


Here are the winning entries:
1) (engineer) – "I'm your candidate. I take responsibility. With me, 'the f*ck stops here.'"
(Brian Brandt) – "The Debate Commission apologized for this unfortunate word placement."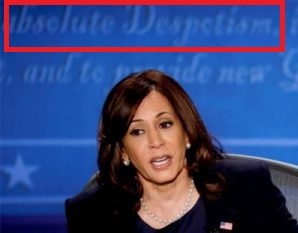 2) (cathymv) – "I am just saying….. I am so sorry to hear about Joe Bidens impending suicide… and I will accept the nomination for President of the United States. A quick shout out to my girl, Hillary! I could not have done this without you!"
(fustian24) – "The hand goes up every time she starts "b!tch-splaining"…"
3) (Olsoljer) – "Forget the truth and facts, I'm talking now."
(yetanotherjohn) – "It is interesting to compare Harris and Pence. For example, they both get down on their knees a lot … just for very different reasons."
4) (guido81_MA) – "Talk to the hand 'cause the face is busy spoutin' lies!"
(McGehee) – ""My safe word is 'Hoover'.""
5) (RockThisTown) – ""I knew Tupac Shakur. I smoked pot to Tupac Shakur. Tupac Shakur was a friend of mine. And you're no Tupac Shakur, Mr. Vice-President.""
(EricSteel) – "Kamala Harris, "STOP! In the name of Love! Before you…"
Moderator, "Senator, Senator, Senator? What are you doing?"
Kamala Harris, "You asked about the Supremes. My favorite Motown band."
Moderator, "No Senator I asked you about the Supreme Court.""
6) (Brett Buck) – ""No Willy, not now, I am on TV!""
(Rick Adams) – ""Looting is antifa's favorite sport."
"Eww, isn't it revolting?"
"No, that's their second favorite sport.""
The Readers Choice Award this week goes to:
(Mary Gehman) – "Joe was a fly on the wall…and, then just like that, he was sniffing Pence's hair…"
Most Inappropriate But Funny:
(Vagabond661) – "Cameltoe: People thought I would suck as VP. Heck, I've been doing that my whole career!"
Best use of the Trump Administration Caption of Choice:
(Retired military) – "Harris "Even though our names both start with H let me be clear. Hillary will never be President. After Joe kicks the bucket I will be""
Best Banter Weight:
(rodney dill) – ""All I said was Pence's Tsetse's were bigger.""
Best "Who Do I Have to Blow…":
(RadiCalMan) – "Who do I have to blow around here to win this debate?"
That's all for today. A new edition of the Wizbang Weekend Caption Contest™ will debut Friday morning.