This week's Weekend Caption Contest™ helps us round out a week that was another roller coaster ride from hell.
The assignment this week was to caption the following picture:


Here are the winning entries:
1) (Joe_Miller) – "I watched the debate. I completely missed the mime part. Trump is a waiter delivering a tray of food. Chris Wallace is trapped in a box. And Joe Biden is clinging to a podium so he can keep standing up."
2) (Par4Course) – "Biden's campaign wouldn't agree to an independent check after a staff member spotted blue sky when he looked into Joe's ear."
3) (yetanotherjohn) – "Chris asks Joe how many amendments are in the Bill of Rights … Joe gets the number wrong./em>"
4)(fustian24) – "Wallace:
Mr. Biden: I have another Trump quote taken out of context to give you the opportunity to take some cheap shots at the President…"
5) (McGehee) – "Hands up don't shout"
6) (Vagabond661) – "Wallace: "Vice President Biden, would you stack the Supreme Court?"
Biden: "Here's the deal. We need to….to…low battery alarm.""
The Readers Choice Award this week goes to (TIE):
(Joe_Miller) – "Trump is thinking that, in light of today's news, he should have hugged and kissed both of these guys.
AND
(retired military) – "Biden "We know things about Barrett's past""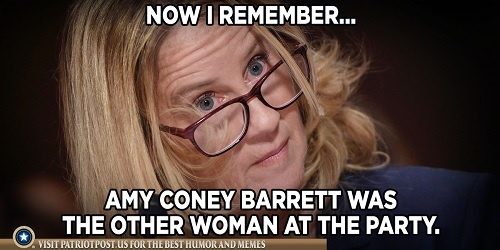 Most Inappropriate But Funny:
(Mary Gehman) – ""I don't know who is hiding inside my podium…but I'm Joe Biden and I approved this 'massage'…""
Best use of the Trump Administration Caption of Choice:
(RockThisTown) – ""Ok, ok, Mr. President . . . if you insist, we'll stipulate that Hillary will never be President.""
Best Banter Weight:
(cathymv) – "swamp ass"
Best "Who Do I Have to Blow…":
(Paul Hooson) – "Yeah, but everyone remembers that classic Lincoln-Douglas debate in which he told Douglas, "Who do I have to blow"?"
Best Limerick:
(Harry Butts) – "There once was a presidential debate
With Trump and Biden on the slate
But with Chris Wallace as moderator
It turned into a shit-show
And was as fucked up as my rhyme scheme became."
That's all for today. A new edition of the Wizbang Weekend Caption Contest™ will debut Friday morning.