This week's Weekend Caption Contest™ asks the question, "Do leftist politicians nowadays have any sense of shame or propriety?" The answer:
No. No, they don't. They're freaking tramping around the ashes of some poor family's burned out home for a freaking photo opportunity. They couldn't even be bothered to ask the family for permission. Hey, who doesn't want their personal tragedy splashed all over the media so they can keep reliving it again and again if it helps Kamala and Gavin pose for the press!
The assignment this week was to caption the following picture:


Here are the winning entries:
1) (Mary Gehman) – ""…YOU'RE FIRED…""
(guido81_MA) – "Defund Smokey Bear!"
2) (rodney dill) – ""I never wanted to be in politics… I always wanted to be… a lumberjack!""
(Rick Adams) – ""So much fundamental transformation!""
3) (Rodney G. Graves) – "The fruits of 40 years of mismanagent and the agents who want to sell you some more of that mismanagement."
(RockThisTown) – "Black Forests Matter."
4)(Blues Harper) – "They'll think twice before they use Soros's name in vain again."
(yetanotherjohn) – "How did Biden get way up in that tree … who was supposed to be watching Biden?"
5) (patriciamcc) – ""There's nothing like the smell of napalm in the morning."/em>"
(Olsoljer) – "…………..and this is what will happen to those who don't give up their guns……"
6) (914) – "The Democrat plan for America is unveiled.."
(RadiCalMan) – "Boy, it's a good thing we had these masks around! Thanks Joe Biden!"
The Readers Choice Award this week goes to:
(fustian24) – "But, how do we tax this?"
Most Inappropriate But Funny:
(Vagabond661) – ""I've seen better black wood than that.""
Best use of the Trump Administration Caption of Choice:
(Brian Brandt) – "Meanwhile, in Washington, diplomats gather to sigh the historic Hillary will never be President of the United States, Prime Minister of Israel, King of Bahrain, or President of the UAE Treaty."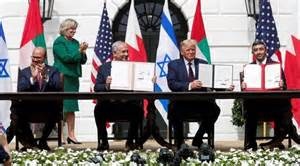 Best Banter Weight:
(Joe_Miller) – "And the smoke was Green! Where did I put my gender chart?"
Best "Who Do I Have to Blow…":
(retired military) – "woman thought bubble "Who do I have to blow to get a real man out here with me?""
The Very Rare "Too Soon" Award:
(EricSteel) – "Hey, is that Ruth Bader Ginsberg soul?
Not if you are pointing up."
That's all for today. A new edition of the Wizbang Weekend Caption Contest™ will debut Friday morning.