This week's Weekend Caption Contest™ Special Social Distancing Edition 11.0 allows me to share this gem from the New England Journal of Medicine: "Oopsie, masks don't really do anything." Make sure to share that with any Karens who bug you outside about not wearing a mask.
We have a throuple for Reader's Choice this week!
The assignment this week was to caption the following picture:


Here are the winning entries:
1) (fustian24) – "What's Governor Karen want now?"
(yetanotherjohn) – "Governor Whitmer had to get a new sign language interpreter after the last one discovered the governor's not so secret identity."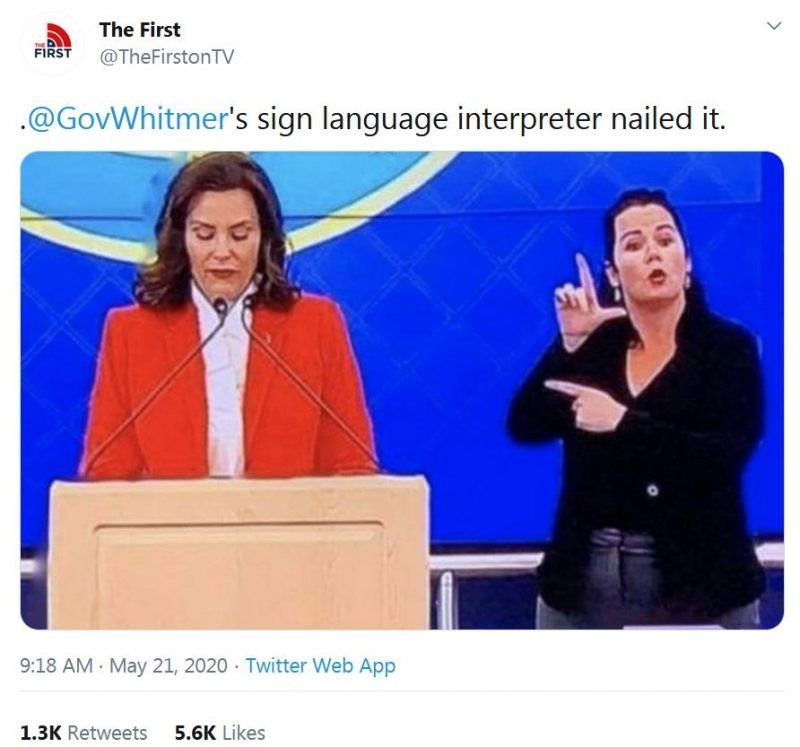 2) (RockThisTown) – "WARNING: Images in green are more totalitarian than they may appear."
(rodney dill) – "So I wonder how much it cost her to have her hair done professionally so that it doesn't look like it was done professionally."
3) (Joe_Miller) – "And this is for all you fucking sign language speakers out there!"
(Par4Course) – "Governor Whitmer's interpreter indicates how many Michiganders still support her lockdown."
4)(Paul Hooson) – "To enhance social distancing, the governor is free to retell any of Paul Hooson's jokes…"
(DJDTX_60) – "The restrictions are only until we find a 'Final Solution'"
5) (Porkopolis) – "Nary a Whit of Wit"
(Blues Harper) – "Signing faster than the Governor can think."
6) (Yooper) – "The answer is 42, look to the sky the truth is out there and the Vogon Construction fleet. Grab your towels and 6 beers."
(patriciamcc) – "I'm as clueless as I look which is why that woman behind me wants to wring my neck."
The Readers Choice Award this week goes to:
(Mary Gehman) – ""Isn't that sign language for 'WTF'…???""
AND
(retired military) – "The sign language interpretor is for the people who cant hear.
Where is the STUPID interpretor for people who actually believe what this lady says?"
AND
(EricSteel) – "Governor Whitmer explains why most people in her state want to slit their wrists with a pair of scissors."
Most Inappropriate But Funny:
(Paul Hooson) – "Thank God I live in Oregon. Few coronavirus cases, and the biggest problem is guys who make love to trees and get charged with lumberjacking…"
Best use of the Trump Administration Caption of Choice:
(cathymv) – "Whitmer: You will stay in your homes until I tell you to come out. Otherwise you will be incarcerated.
Interpreter: Like Hillary, this one will never be President."
Best Banter Weight:
(Brian Brandt) – "I cried when he gave her the puppy. Did you cry?"
Best "Who Do I Have to Blow…":
(RadiCalMan) – "Really? Nobody has a bucket of water to throw on her?"
Best Haiku:
(Harry Butts) – "Ohio State's Red
U of M is Blue
My husband can drive his boat
Because F*** you, you whiny peasant!"
That's all for today. A new edition of the Wizbang Weekend Caption Contest™ will debut Friday morning.