So the dhimmocrats in Iowa decided to use software to tally their Caucus results.  The firm they selected was a start up run by former members of Felonia VonMilhouse Pantsuit (the Dowager Duchess of Chappaqua) 2016 Campaign.  They further decided not to allow DHS to analyze and vet this software.  What could go wrong?
There's money to be made in "progressive" politics.

By James Freeman, the Wall Street Journal

What do you get when you combine Team Clinton's business savvy with panicked Democrats eager to counter Donald Trump's use of digital technology? Behold the Iowa Democratic Party's caucus reporting app.

In competitive elections, you win some and you lose some. But if you can create recurring revenue streams from both the national and state offices of one of America's two leading political parties, you can win every time! For Democratic tech vendors, the timing is perfect as party officials look to digital investments to counter a perceived Trump advantage.

…

But there was just one little recurring problem with this tech company—its tech. The Journal reports:

Over the past year, Shadow pitched products including a texting app and a data integration tool, but got a mixed reception. Several people who saw the presentations or were briefed on them said the technology wasn't impressive and didn't stand out among the crowd of vendors. Others were sharply critical.

Democrats may or may not succeed in defeating Donald Trump this November. But regardless of the election outcome, at least a few of them are sure to be winners.
Read the whole thing.  Fiction has nothing on it.
Oh, and it's not as if they had not been warned (as we all were, by Randal xkcd Munro):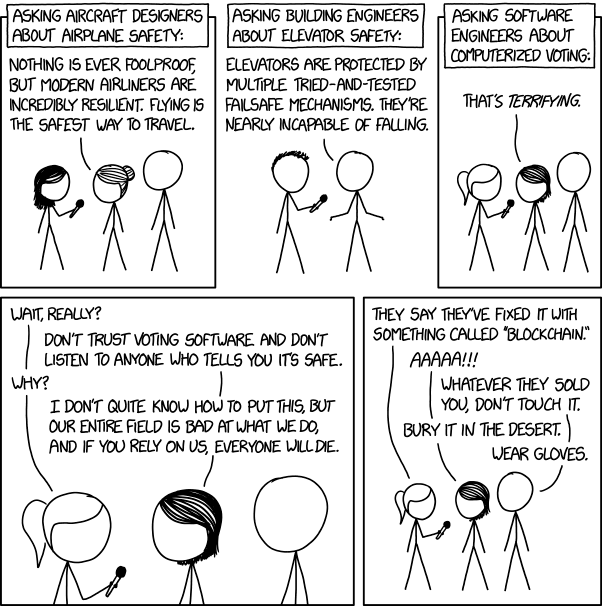 "There are lots of very smart people doing fascinating work on cryptographic voting protocols. We should be funding and encouraging them, and doing all our elections with paper ballots until everyone currently working in that field has retired [died of old age]."

Editorial [comments] appended