This week's Weekend Caption Contest™ presented two reasons for the House impeachment farce. If Biden and Sanders are two of the DNC front runners, the party needs a whole bunch of squirrels. The assignment this week was to caption the following picture:


Here are the winning entries:
1) (RockThisTown) – "Somewhere today, two villages are missing their idiots."
(Brian Brandt) – "Bernie: And as president I promise . . . yada, yada . . . blah, blah . . .
Biden thought bubble: Never fear, Captain Kirk, I have the helm! Scotty! More power! Warp speed! Varoom! Varoom!"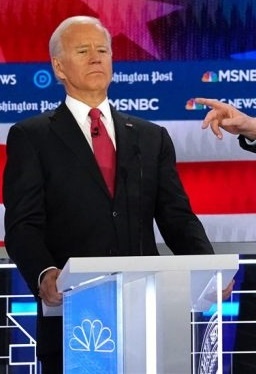 2) (yetanotherjohn) – "Proof that two half wits does not equal one wit."
(Rick Adams) – "Behold, Joseph Snootyborn of House Biden, the Unlearnt, sniffer of young girls and Father of Hunter."
3) (Patrick_McHargue) – "Hey! Watch where you're pointing that socialism thing! Gonna' blow someone's head off!"
(guido81_MA) – "From two of the smallest states in America come two of the smallest men in America."
4) (rodney dill) – ""I will defeat you with my Ukraine Kung Fu.""
(Retired military) – "Bernie is so far left that even Biden is to his right."
5) (Mike) – "The line for bread starts over there!"
(Mary Gehman) – "Stand-up Comedy just can't compete with the Democratic Debates anymore. They just re-air them now on SNL as-is…"
6) (Vagabond661) – "Get off our lawn!!!"
(Paul Hooson) – ""Let me introduce youze to my express lane dummy, here…"."
The Readers Choice Award this week goes to (TIE):
(fustian24) – "Well, while in office, I've only stolen enough for three modest homes. This bastard and his coked-up son have stolen hundreds of millions!"
AND
(Joe_Miller) – "Who Swalwelled?"
Honorable Mention(s):
(EricSteel) – ""I say, don't listen to him, he's just an old Swallwell.""
(Par4Course) – "Bernie fires straight at Biden with his finger gun but sadly misses."
Most Inappropriate But Funny:
(DJD60_TX) – ""I'm America's proctologist, and Biden's America's douche.""
Best use of the Trump Administration Caption of Choice:
(cathymv) – "Like Hillary Clinton, two more leftists that will never be President"
Best Banter Weight:
(Mary Gehman) – "…and this is the finger I still use to dial my rotary phone…"
That's all for this weekend. A new edition of the Wizbang Weekend Caption Contest™ will debut Friday morning.