This week's Weekend Caption Contest™ features the latest Stalin wannabe to darken America's doorstep. Still waiting for the MSM to notice that Little Adam hung out with Ed Buck and took donations from him. The assignment this week was to caption the following picture:


Here are the winning entries:
1) (Joe_Miller) – ""I dreamed I was impeaching a President…in my Maidenform bra.""
(Mike) – ""Here I sit
Broken hearted,
Adam Schiff,
and I just farted!""
2) (Mary Gehman) – ""Good Morning, Class! My name is Mr. Schiff. Welcome to 'The Innmates Are Running The Asylum: 101″. This course of study will provide you with all the skills necessary to become a flaming liberal democrat who thinks you are in charge because you can glean all the media attention you want, make much ado about nothing, be proven wrong by the facts time and again, and still think your shit don't stink and that you are still in charge… All the valuable life-skills you will ever need to navigate and think you run the DC swamp….""
(Par4Course) – "Adam Schiff announces the schedule for the next 5 years of impeachment hearings."
3) (Rick Adams) – ""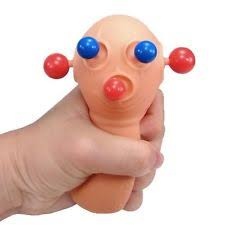 (Porkopolis) – "Schiff Face"
4) (rodney dill) – ""Nobody expects the Spanish Inquisition.""
(guido81_MA) – "Here's ol' bug-eyes pretending he is wondering who the whistle blower is."
5) (Patrick_McHargue) – "Thought bubble, "We'll go after his supporters next…""
(patriciamcc) – "Doesn't everyone realize that I'm the King! I tell them who can speak and what to say. I say who cannot speak. I'm the King!"
6) (Kenny Moore) – "Shifty Schiff schemed the scam.
Shifty Schiff staged the sham.
Will shifty Schiff shift the plan,
now that the schiff has hit the fan?"
(Wild_Willie) – ""I am good enough, smart enough, and gosh darnit people like me.""
The Readers Choice Award this week goes to:
(fustian24) – "He's a little like Hillary, but without a d!ck…"
Honorable Mention(s):
(DJD60_TX) – "Adam Schiff, representing the paranoid-American and the malicious-American community as their avatar."
(Vagabond661) – ""How can I say obstruction when I won't let the whistleblower testify?""
Most Inappropriate But Funny:
(Brian Brandt) – "Schiff thought bubble: I wonder who sent those two hookers to piss on my bed last night.
"
Best use of the Trump Administration Caption of Choice:
(yetanotherjohn) – "Even Schiff has a greater chance of getting laid than Hillary does of being president, but he doesn't have a better chance of being president than Hillary does."
Best Banter Weight:
(Rodney G. Graves) – "You do a great disservice to Captain Kangaroo."
That's all for this weekend. A new edition of the Wizbang Weekend Caption Contest™ will debut Friday morning.