This week's Weekend Caption Contest™ was absolutely hair raising (ba dum bump). On a serious note, thank you to our brave military and President Trump for ridding the world of Abū Bakr al-Baghdadi and exposing the terrorist loving left again. The assignment this week was to caption the following picture:


Here are the winning entries:
1) (rodney dill) – "15 years down the line"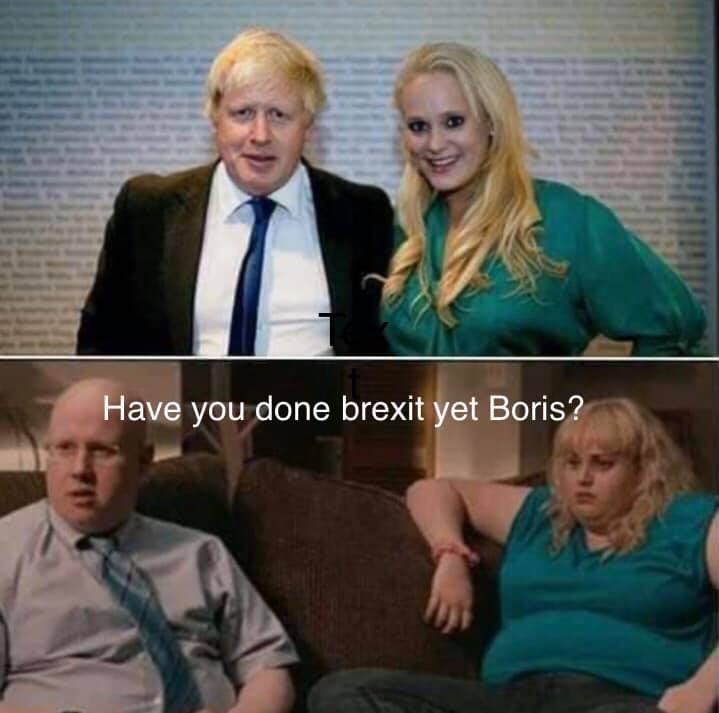 (cathymv) – "Someone, obviously, has nude photos of HIllary Clinton….."
2) (RadiCalMan) – "Dealing with the EU makes my hair stand on end!"
(fustian24) – "When he finishes Brexit, maybe he could get us out of the UN!"
3) (Paul Hooson) – "I hate to say it, but the British version of those Troll dolls kinda sucks…."
(Rick Adams) – "Not my circus, not my monkeys."
4) (Mike) – "Just returned from a visit with my uncle Van de Graaff!"
(Patrick_McHargue) – "Boris presents his shocking compromise. (pictured above)" AND (Porkopolis) ""I have shockingly good news on BREXIT!""
5) (yetanotherjohn) – "Gentlemen, I give you the long lost Marx brother – Hairpo."
(guido81_MA) – "Bernie combs his hair with a balloon and he's a commie loser. I find a large binder gives me the more full bodied wild coiffe of a man who has a feckin' clue."
6) (Joe_Miller) – "Wouldn't he make a fantastic Doctor Who?"
(Olsoljer) – ""I found Hillary's rough draft of the Trump dossier ! Does Comey still want it? ""
The Readers Choice Award this week goes to:
(RockThisTown) – "If Trump & Gary Busey had a son . . . ."
Honorable Mention(s):
(Kenny Moore) – "America just keeps winning. Thanks to Trump's restoration of U.S. leadership, world leaders are no longer afraid to have stupid hair."
(DJD60_TX) – "Hair-raising tales for Halloween"
Most Inappropriate But Funny:
(Mary Gehman) – ""…you should see my pubic hair…""
Best use of the Trump Administration Caption of Choice:
(fustian24) – "After extensive research, MI6 has determined in this report why Hillary lost to Donald Trump.
It turns out she was a corrupt, shrill, lying politician, married to an alleged rapist, that may be in bed with a possible terrorist sympathizer, who is said to have sold out her office to all comers for contributions in the hundreds of millions to the Clinton "Charity" Fund. She is rumored to be an alcoholic, and appears to have neurologic problems that cause her to fall down occasionally and stare stupidly at flashing lights. She likely should have been under indictment for exposing US secrets through her unsecured emails, but typical democrat corruption intervened. Her major accomplishment was supposed to be Libya, but she was apparently too stupid to realize that our office in Benghazi might need security.
Oh, and she was an exceptionally shitty candidate."
Best Banter Weight:
(Brian Brandt) – "Oh, Lord . . . .
. . . . the image! I can't remove the image from my brain!"
Most Arcane Reference of the Week:
(Rick Adams) – "Guess who's been reading Fluttercord clopfic?"
That's all for this weekend. A new edition of the Wizbang Weekend Caption Contest™ will debut Friday morning.