This week's Weekend Caption Contest™ featured President Trump-now confirmed collusion free (what a shocker.) The assignment this week was to caption the following picture:

Here are the winning entries:
1) (Retired military) – ""Full exoneration. Full Exoneration. I am wondering what the democrats are going to try next""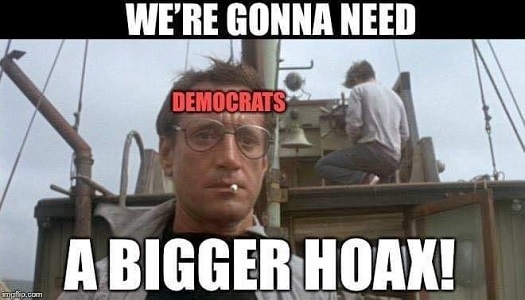 2) (RockThisTown) – ""Have you heard about the newest & fastest production car available . . . the Mueller? It goes from collusion to zero in 1 report flat.""
3) (RadiCalMan) – "OK, now it's time to take names and kick some treasonous butts!"
4) (Kenny Moore) – "'Red' Raiders. Obvious Russian collusion to steal the victory. I'm appointing a Special Council. We'll get this overturned."
5) (yetanotherjohn) – "Trump unveils his 2020 campaign slogan "F*ck you and the clown car you rode in on"."
6) (Mike) – "I did it myyyyyyyyyyyyyyyyyyyyyyyyyyyyyyyyyyyyyyyyyyyyyyy way!"
The Readers Choice Award this week goes to:
(Mary Gehman) – ""At least we did not have to land under sniper fire…""
Honorable Mention(s):
(Vagabond661) – ""We are looking into who hacked Kevin.""
(Scorpion) – "I don't know why Pencil-neck would want to be a no show for this meeting. I even personally booked a brand new 737 MAX 8 for his entourage."
Most Inappropriate But Funny:
(fustian24) – "Frankly, I've had a Schadenböner since the Mueller report was released!"
Best use of the Trump Administration Caption of Choice:
(cathymv) – "The best part of this whole Russian Hoax, Hillary still isn't President!"
Best Banter Weight:
(Brian Brandt) – "Does this space suit make my ass look big?"
That's all for this weekend. A new edition of the Wizbang Weekend Caption Contest™ will debut Friday morning.