This week's <a href="http://wizbangblog.com/2015/04/03/wizbang-weekend-caption-contest-590/">Weekend Caption Contest&trade;</a> celebrates the Democrats having nothing to cheer except for a frame of Nancy Pelosi managing to clap. Whoo freaking hoo. I guess given the Democrats' outpouring of racism, anti-Semitism, and amazing levels of stupidity this week (see Green Step Forward), it's the best thing that happened to them. The assignment this week was to caption the following picture:

Here are the winning entries:
1) (Vagabond661) – "Pelosi thought bubble: 'Yes, Trump, I give you the clap.'"
(fustian24) – "Every time Pelosi claps a fetus dies."
2) (Wild_Willie) – "Nancy Pelosi strikes a pose with the democrat's new KKK female uniform."
(rodney dill) – "SMIRKER!"
3) (Mary Gehman) – ""I clapped twice just like the instructions said, but he just wouldn't turn off…""
(RockThisTown) – "Here a clap, there a clap, everywhere a clap clap, old Prez Donald wants a wall . . ."
4) (Retired military) – "Why did Nancy clap like that?
Fixodent works !!!!"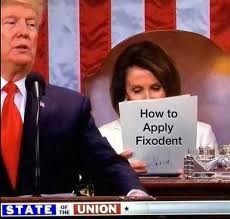 (Paul Hooson) – ""I knew Cruela De Vil.Cruella De Vil was a friend of mine. Maam, you're no Cruella De Vil"."
5) (Blues Harper) – "President Trump acknowledges the success of the physically & mentally challenged in his SOTU address."
(Brian Brandt) – "Please give, and give generously, to end the heartbreak of Bitchy
Resting Face."



6) (yetanotherjohn) – "Don't look now, but I think someone just caught Tinkerbell."
(Rick Adams) – "Of course they pick the one frame out of the video that shows her looking all cool and sassy, not all the others that showed her flopping her hands around like an idiot."
The Readers Choice Award this week goes to:
(EricSteel) – "The President, the Vice President and the Polident."
Honorable Mention(s):
(Par4Course) – "Talk to the hand."
(sirlaffalot) – "…the shadow is now a "duckie." Next, a giraffe."
Most Inappropriate But Funny:
(Olsoljer) – "PELOSI: Can you guess what else I have that's as loose and floppy as this?"
(Joe_Miller) – "Everybody knows what a Lewinsky is. I'm creeped out just thinking about what a Pelosi might be. Maybe she's doing it here."
Best use of the Trump Administration Caption of Choice:
(cathymv) – "You can see that even Pilosi is happy that Hillary isn't President!!"
Best Banter Weight:
(yetanotherjohn) – "Imagine if the GOP had all worn white. CNN would be running 24/7 about white supremacy in congress."
That's all for this weekend. A new edition of the Wizbang Weekend Caption Contest™ will debut Friday morning.