This week's Weekend Caption Contest™ featured Hurricane Florence, yet another event that the left somehow found a way to blame on President Trump. The assignment this week was to caption the following picture:

Here are the winning entries:
1) (Olsoljer) – ""If I COULD control this hurricane, it would hit California.""
2) (Retired military) – "Trump "My messenger Glenda told the democrats that even thought this has been a rough couple of weeks we will endure"
"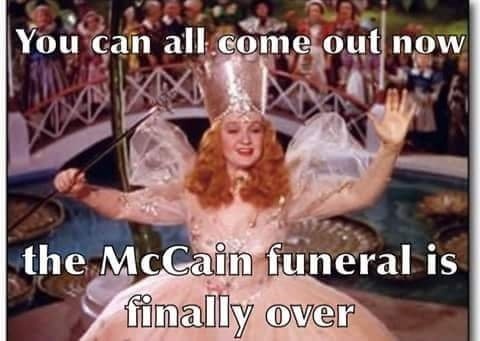 3) (Brian Brandt) – "MSNBC – Death toll so far for Florence is 11, but according to our statistical analysis Trump is responsible for 2,550 to 3,240 deaths yet to happen."
4) (guido81_MA) – "CNN panel gravely concerned that weakened Florence could reduce potential blame opportunities on President Trump."
5) (Mary Gehman) – ""If we can't get them to evacuate, I say we bring down Cuomo…he seems to know how to get people to leave a state…""
6) (Vagabond661) – ""Puerto Rico has spare water bottles!""
The Readers Choice Award this week goes to:
(yetanotherjohn) – "Looks like Florence has a better chance of visiting the midwest than Hillary ever did."
Honorable Mention(s):
(TheyTukRJobz) – "Through the power invested in him by Twitter, President Donald Trump causes hurricane Florence to change direction and diminish to a category 2."
(BluesHarper) – "Warning from President Trump."This is what happens when so many East Coast Liberals suck.""
Most Inappropriate But Funny:
(Paul Hooson) – "OK. Map? Check. Trump? Check. John McCain? Still missing…"
Best use of the Trump Administration Caption of Choice:
(David Robertson) – "Trump: "If you think that a hurricane is destructive, then just imagine how destructive President Hillary would have been.""
Best Banter Weight:
(rodney dill) – "more like two manatee's trying to swim under a blanket."
That's all for this weekend. A new edition of the Wizbang Weekend Caption Contest™ will debut Friday morning.