This week's Weekend Caption Contest™ brought out the love that only Hillary can garner here. It reminds us that her fashion sense is almost as poor as her grasp of campaigning and the Electoral College. The assignment this week was to caption the following picture:

Here are the winning entries:
1) (Mary Gehman) – ""…Okay…whose the wise-ass that taped the 'WIDE LOAD' sign to the back of my dress…""
(Rick Adams) – "Jabba the Butt."
2) (Rodney Graves) – "Abdul the Tentmaker will not be invited back to the next fashion show."
(yetanotherjohn) – "As the democrats elder statesman, she carries a lot of weight."
3) (rodney dill) – ""Hillary. Why is it you have an aversion to little Dutch boys?""
(Brian Brandt) – "It's her party dress.
The Donner Party."
4) (RadiCalMan) – "Look Bill, still no handcuffs!"
(Paul Hooson) – "What does a guy call a dress donated from Hillary Clinton?
A Summer vacation rental…"
5) (cathymv) – "I feel the earth move under my feet, I feel the world tumbling dow n….."
(RockThisTown) – "The U.S. textile industry experiences a huge uptick in sales, but analysts couldn't entirely attribute it to Trump policies."
6) (Joe_Miller) – "Madam Tussauds breathes a sigh of relief."
(Mike) – ""Ready for my colonoscopy, Doc!""
The Readers Choice Award this week goes to:
(fustian24) – "She's planning on running again but with a wider base this time."
Honorable Mention(s):
(DJD60_TX) – ""Due to unforeseen conditions, the buffet is no longer all-you-can-eat. In fact, the buffet is over""
(Scorpion) – "Brian Stelter swiftly slinks away when he sees her smiling at him holding her favorite sex toy."
(jim_m) – "Hillary hits the runway wearing the latest in medical wear from Kenneth Cole-ostomy bag."
(BluesHarper) – "Hillary's first appearance after being admitted to the Betty Ford Center for TDS (Trump Deranged Syndrome)."
Most Inappropriate But Funny:
(yetanotherjohn) – "I'm just sayin', can you blame Bill for not wanting to "eat" at home?"
Best use of the Trump Administration Caption of Choice:
(Retired military) – "30 minute interview on TV – $5million
Losing Presidential campaign = $1 billion
Wearing a tablecloth on TV to an interview – Priceless."
Best Banter Weight:
(TheyTukRJobz) – "Hmmm… didn't South Park feature her in an episode?"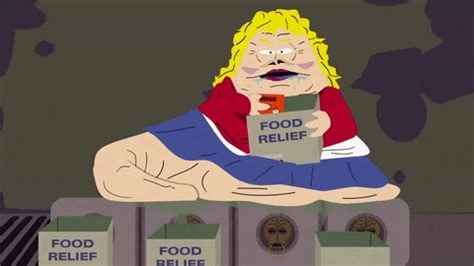 That's all for this weekend. A new edition of the Wizbang Weekend Caption Contest™ will debut Friday morning.