This week's Weekend Caption Contest™ captured another great MAGA moment. President Trump went to Europe, didn't bow to anyone, and told the powers that be in NATO to start paying their fair share. We were over 200 comments, so we have double winners per place. The assignment this week was to caption the following picture:

Here are the winning entries:
1) (BluesHarper) –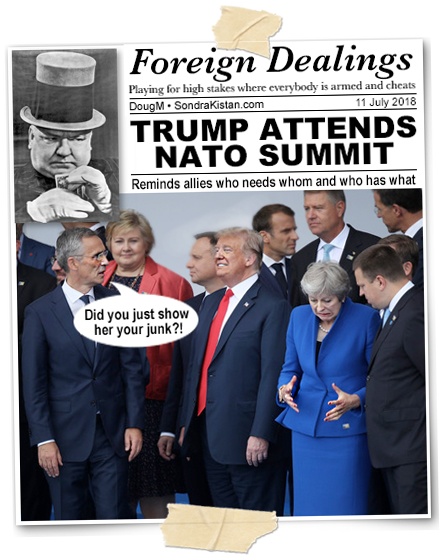 (Mary Gehman) – "When Trump smiles, the rest of the world worries…I like that in a POTUS…"
2) (RockThisTown) – ""Seriously, her cankles were like this.""
(RickAdams) – ""YUGE.""
3) (Olsoljer) – "Guess who won – again."
(yetanotherjohn) – "Remember when Germany invaded and conquered a bunch of you and then we came over and liberated your asses? Good time, good times … you sure you don't remember.
4) (IronAndCarbon) – "I know what they say about the tiny hands, but believe me that's not true. He IS this big"
(fustian24) – ""Macron thinks Theresa May is hot.
A little young for him though."
5) (DJD60_TX) – ""And then Trump told me the way I was going, the number of REAL men in England could meet in a place this size""
(Retired military) – "NY TImes. "Trump wears red tie signalling his Chinese allies that all is going according to plan""
6) (engineer) – "There were mixed reactions to Trump's schlonging of NATO members."
(Dave Robertson) – ""Trump ripped me a new one, and it is this big.""
The Readers Choice Award this week goes to:
(guido81_MA) – "I mean, his balls MUST be THIS big."
Honorable Mention(s):
(RadiCalMan) – ""I thought I had everything in my hands and he snapped his fingers, Poof!, it was all just a mirage!"
(Scorpion) – "Hey Merk! Where's the location of this pipeline to Putin's Russia that Trump over there is talking about?"
Most Inappropriate But Funny:
Every winning entry.
Best use of the Trump Administration Caption of Choice:
(rodney dill) – "First rule of World Leader Club is….. still no one talks to Hillary.""
Best Banter Weight:
(rodney dill) – "She doesn't live at 10 Downing Street for nothing."
That's all for this weekend. A new edition of the Wizbang Weekend Caption Contest™ will debut Friday morning.