This week's Weekend Caption Contest™ reminds us that who is NOT in the Oval Office is just as important as who is. The assignment this week was to caption the following picture:

Here are the winning entries:
1) (Wild_Willie) – "Beware: She can change a Biathlon Olympian Champion into a woman."
(cathymv) – "Hillarys Presidential Run: 600 Million
Trumps Presidential Run: 322 Million
One Picture of Trump and a Kardashian – Not HIllary – in the Oval Office: Priceless"
2) (Par4Course) – ""From now on, I'm only meeting with people named Kim.""
(Brian Brandt) – "Trump: Is that your phone going off?
Kim: No, I'm backing up."
3) (retired military) – "Trump "I am so glad you didnt wear a blue dress today""
(stan25) – "I said Kim Jung Un not Kim Kardashian."
4) (Mary Gehman) – ""Kim, could you just turn around and show the folks the new 51st state…""
(RadiCalMan) – "Trump is going to introduce a little Kimshe into the negotiations with North Korea next week"
5) (IronandCarbon) – "President Trump introduces the next Attorney General of the United States."
(guido81_MA) – "I like big butts and I cannot lie."
6) (Kenny Moore) – "How is she here? I thought Cromwell dissolved the Rump."
(yetanotherjohn) – "Kim is wearing black in memory of her career after the left sees this picture."
The Readers Choice Award this week goes to:
(Hank_M) – "The fact still remains, the biggest ass to ever be in the Oval office was Obama."
Honorable Mention(s):
(Joe_Miller) – "Next week he's meeting with Elvira, Mistress of the Dark, to discuss Monetary Policy."
(DJD60_TX) – "There's a great modern leader named Trump
Who rebuilt the land from a dump
He brought back the jobs
And heckled the slobs
And showed off a fine famous rump"
Most Inappropriate But Funny:
(Scorpion) – "Because she has such an impressive ass, I'm authorizing the National Weather Service to assign names to its farts, starting with ACOSTA followed by BEE and then……..let's skip the letter C for now."
Best use of the Trump Administration Caption of Choice:
(Rick Adams) –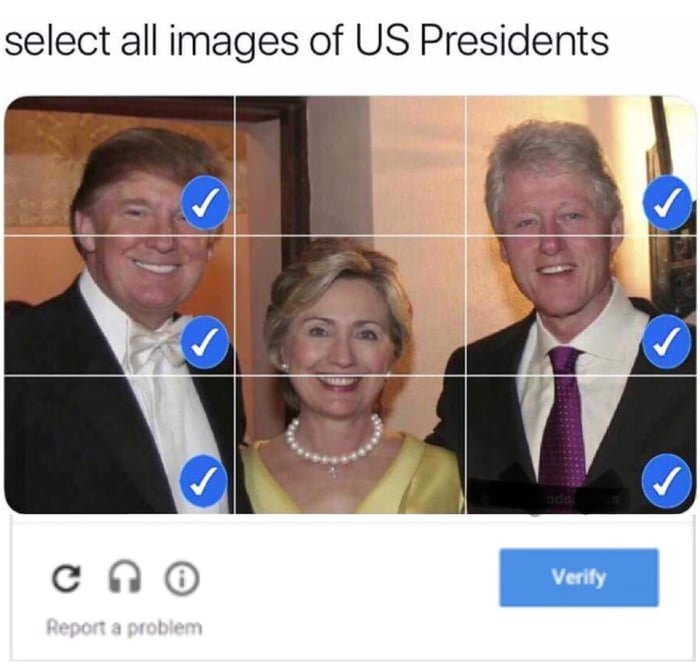 Best Banter Weight:
(RockThisTown) – "No . . . . this big ass makes your President look. Ba-da-boom!"
That's all for this weekend. A new edition of the Wizbang Weekend Caption Contest™ will debut Friday morning.