This week's Weekend Caption Contest™ reminds us that many Hawaiian disasters end up as the subject of this contest's photos. The assignment this week was to caption the following picture:

Here are the winning entries:
1) (Brian Brandt) – ""I woke up this morning with a coat of ash covering the whole neighborhood and the foul stench of sulfur in the air."
"Oh, you must be from Hawaii."
"No, I live next to Hillary Clinton.""
(Scorpion) – "Oh that. Trump just posted a tweet. It's just the reporters heads exploding over at the media tent."
2) (Mary Gehman) – ""This is one expensive charity event…$100,000.00 a plate…and, ten times that if you ordered the 'Tectonic Plate'…""
(yetanotherjohn) – "Hawaii didn't vote for Trump. Volcano strikes Hawaii. Coincidence? I think not."
3) (fustian24) – "Darwin is still out there improving the human race one moron at a time."
(RockThisTown) – "And poof . . . up goes Obama's legacy."
4) (DJD60_TX) – "Burgers are done!"
(Rick Adams) – "I don't want to hear another goddamned thing about my carbon footprint."
5) (Olsoljer) – "Uuuuuuh, …….didn't you say Hilary, Stormy, Rachael and Rosy had a later tee time?"
(Joe_Miller) – ""It's too early, I'm having a shitty round, and there's a volcano going off behind me, but at least my miserable wife's not here. All in all, it's a good day.""
6) (guido81_MA) – "A moment of respectful silence please during the cremation of Michael Moore."
(BluesHarper) – "CNN: Nothing to see here, back to Stormy Daniels."
The Readers Choice Award this week goes to:
(rodney dill) – "Carl Spackler finds a new way to rid the course of gophers."
Honorable Mention(s):
(stan25) – "The rumblings from the soon to be released DoJ/FBI report."
(Kenny Moore) – "In the immortal words of Jean Paul Sartre, 'Au revoir, gopher'."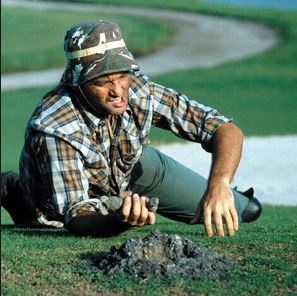 (Paul Hooson) – "Hawaii's least popular T-shirt? "I Thought I Moved To Paradise….But, All I Got Was This Lousy Backyard Lava Flow…And, Housefire"."
Most Inappropriate But Funny:
(cathymv) – "Ok, who farted??"
(fustian24) – "Bill Clinton showed up immediately offering to deflower any virgins.
You know, just in case they decide to go back to the old ways."
Best use of the Trump Administration Caption of Choice:
(Retired military) – "I'm not quite sure what is going on here but I am quite certain it will be followed by 2 things.
1. The MSM somehow tying it to Trump and Russia.
2. Hillary still not being President."
Best Banter Weight:
(yetanotherjohn) – "No. Its actually the light reflecting off your ass into my eyes that makes your ass look fat … and the fact tht you have a fat ass."
That's all for this weekend. A new edition of the Wizbang Weekend Caption Contest™ will debut Friday morning.