This week's Weekend Caption Contest™ was quite a letdown. I give you deplorable Wizbangers President Trump AND William Shatner in a photo and you can't break 400 comments? I can't even… Credit was given for captions that utilized both icons in the caption. The assignment this week was to caption the following picture:

Here are the winning entries:
1) (cathymv- "Trruuuuuuuuuuuuuuuump!!!"
(Brian Brandt) – "Woman's thought bubble: How did I get trapped between two of the biggest horn dogs in history? Keep smiling. Keep smiling."
2) (Mary Gehman) – ""7 of 9 prefer me as POTUS…""
(rodney dill) – "Making……… America……… Great Again."
3) (Mike) – ""Photographic evidence of Trump with a Hooker. (TJ)
(guido81_MA) – "CNN reports probability that Shatner served as Trump's intermediary with Mr. Checkov in Russian collusion effort."
4) (Joe_Miller) – "None of the hair in this picture is real."
(DJD60_TX) – "One depends on an old TV show. One depends on makeup. The last one is President of the United States now."
5) (Rick Adams) – "One of them is so vain that he takes elaborate measures to hide his balding head, was known in his younger years for putting the moves on every babe in sight, yet is a beloved but often maligned icon in his industry…. and the other is the President of the United States."
(Paul Hooson) – ""Live long and prosper…Especially after my big corporate tax cut…It was yuge!"."
6) (Retired military) – "Trump "What exactly is a tribble"
Kirk "Something that just lays around eating all day and providing nothing to society"
Trump "Oh in our time we call them democrats""
(RockThisTown) – ""Kirk to Enterprise: Set phasers to Schumer/Pelosi. Yes, complete annihilation.""
The Readers Choice Award this week goes to:
(fustian24) – "Perhaps you could just have Mueller wear the red shirt."
Honorable Mention(s):
(Scorpion) – "Hillary just now comes around after a prolonged coughing fit, only to get a coffin view of her surroundings."
(Wild_Willie) – ""I used…Priceline to attend a President Trump party.""
Most Inappropriate But Funny:
(yetanotherjohn) – "So Mrs. Shatner, what does it taste like to give an 87 year old man a blow job?
Depends"
Best use of the Trump Administration Caption of Choice:
(David Robertson) – "Shatner: "Mr. President, didn't I see a gremlin on one of the wings of Air Force One?"
Trump: "No.That was Hillary. It's the only way that she will ever again ride on Air Force One.""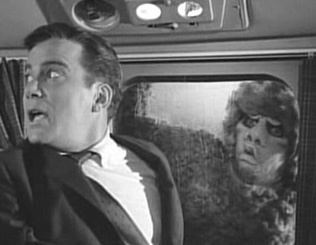 Best Banter Weight:
(Olsoljer) – "Enough to make a man consider Chekov."
That's all for this weekend. A new edition of the Wizbang Weekend Caption Contest™ will debut Friday morning.