This week's Weekend Caption Contest™ inspired a lot of captions-so many that we have three winners per place. I guess not having to listen to or look at Pelosi and Schumer is something to celebrate! There were way too many excellent captions to honor, so go read the rest of the entries. The assignment this week was to caption the following picture:

Here are the winning entries:
1) (fustian24) – Schumer and Pelosi would have been here except for one little detail…
Hillary still not President!
(Kenny Moore) – Not what I had in mind when I demanded transparency.
(Rock ThisTown) – Funny. . . I don't hear Dave Weigel apologizing for photographing these empty seats.
2) (jim_m) – Trump sits with all the democrats who want to see America be a great country.
(engineer) – New York Times headline: "Dems catch Trump ogling Nancy Pelosi's breasts; call for his resignation."
(yetanotherjohn) – Let the minutes show that there was no dissent and that the vote to build the wall was unanimous.
3) (Stephen_Macklin) – Clint only did this with one chair. Sad.
(cathymv) – Schumer must be dead, he is never fashionably late for a photo op
(Olsoljer) – Like Diogenes still looking for an honest man. (Won't find one there).
4) (Joe_Miller) – Guess who couldn't afford the tolls on I-66?
(Scorpion) – I was just told that Hillary's ad hoc memorial service for Ron Brown & Vince Foster was running a little late.
(Mary Gehman) – "…they must have gotten the address wrong…"
5) (RadiCalMan) – So, Nancy let's hear about your plans to "Make America Great Again"!
(stan25) – The Donald is checking the trapdoors underneath Schumer's and Pelosi's seats
(Par4Course) – Trump finds this meeting with Chancy (Chuck and Nancy) much more pleasant than all the others.
6) (Rdm42) – "As I was sitting in my chair. I met two dems who weren't there! They weren't there again today, Oh how I wish they'd go away!".
(Wild_Willie) – "Chucky, if you get up on your booster chair the camera can see you."
(Blues Harper) – "that chair will be emptier today when Pelosi sits in it." – Dennis Miller
The Readers Choice Award this week goes to:
(sarahconnor2) – "Looks like they had a Kennedy drive them here." (Thank you, my fellow posters!)
Most Inappropriate But Funny:
(DJD60_TX) – I see Ms. Pelosi has left her "mark" again. Can someone get a new chair and some Lysol?
(rodney dill) – "That's not a glory hole, Chuck. That's a spittoon."
Best Reuse of the Caption of Choice for the Trump Administration:
(Retired military) – Meanwhile in another part of the WH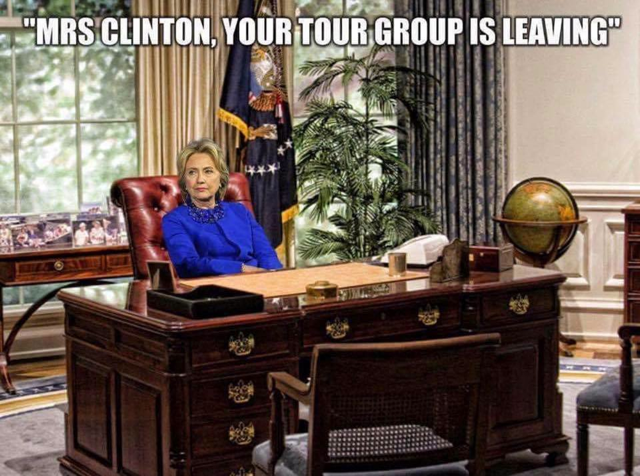 That's all for this weekend. A new edition of the Wizbang Weekend Caption Contest™ will debut Friday morning.