This week's Weekend Caption Contest™ paid homage to Halloween with a creepy representative of the walking dead that you just can't get rid of. We had over 200 posts so we have double winners for each place. The assignment this week was to caption the following picture:

Here are the winning entries:
1) (Mary Gehman) – "The corgies were just humpin' my leg…and I kinda liked it…"
(EricSteel) – "Theresa May or May not."
2) (fustian24) – The Hillary Presidency isn't dead.
It's just restin'. Remarkable campaign, the Whitewater Blue, idn'it, eh?
Beautiful plumage!
(Joe_Miller) – Theresa May's Halloween costume is impressive, but it will probably scare the kids.
3) (cathymv) – Who wants a wet willie!!!
(Scorpion) – Hey Hillary! At least I'll go down…. as a President. (H/T) Barak Hussein Obama
4) (Rock ThisTown) – "I'll have the fish. Where da chippys at?"
(yetanotherjohn) – Quick, get the travel ban in place.
5) (Rodney Graves) – This here's a story 'bout Billy Joe and Bobbi Sue…
(rodney dill) – "Hillary and I stopped in and had a wonderful English breakfast with eggs, crumpets, tomato, beans and some sort of sausage…"
"Banger?"
"No, not for years."
6) (Rick Adams) – In search of the elusive Wisconsin vote…
(Mike) – It's not just his upper lip he's keeping stiff!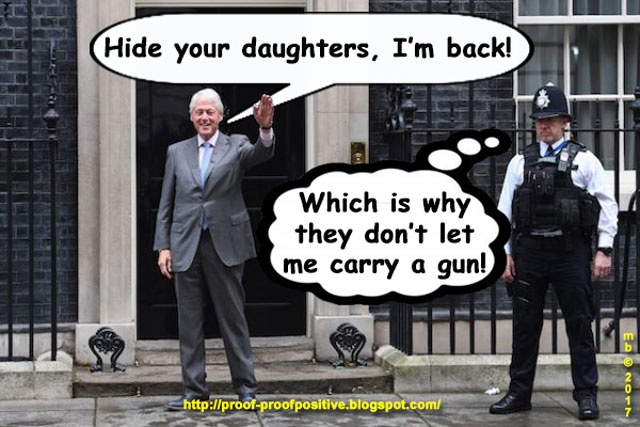 The Readers Choice Award this week goes to:
(sarahconnor2) – Raise your hand if you're a Clinton who has been elected POTUS.
Honorable Mention(s):
(Brian Brandt) – Fun fact: There is no doorknob on the outside of 10 Downing Street.
That's so they can keep out the American white trash.
(stan25) – A world wide farewell trip before being perp walked on his way to Supermax.
Most Inappropriate But Funny:
(Retired military) – Reporter "Where's Hillary?"
Bill "Oh she is just enjoying her bday cake"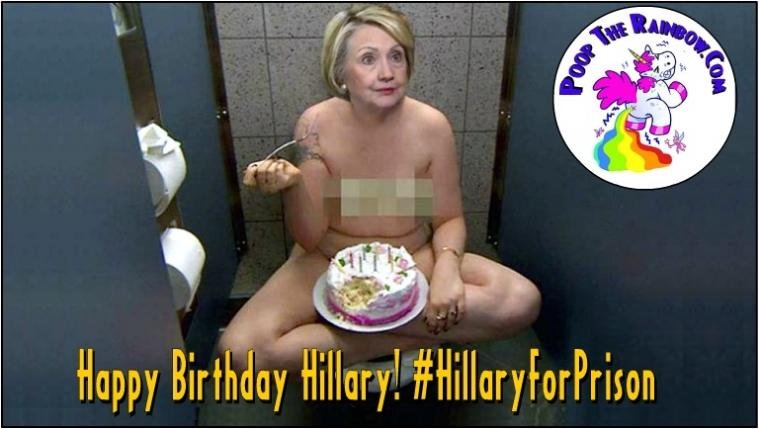 (Paul Hooson) – So Monica tries to speak with her mouth full and Bill responds with, "I didn't know you knew cockney!".
Best Reuse of the Caption of Choice for the Trump Administration:
(David Robertson) – "Hillary couldn't be here. She is too busy not being the President."
That's all for this weekend. A new edition of the Wizbang Weekend Caption Contest™ will debut Friday morning.