This week's Weekend Caption Contest™ mercifully spared us a picture of She Who Shall Not Be President shilling her book complaining about Why She Shall Not Be President. The assignment this week was to caption the following picture:

Here are the winning entries:
1) (Retired military) – Kim "so did the letter from Trump say exactly how I was supposed to fit it in my ass? and why is clock counting down?"
(fustian24) – "Is this where the atoms are kept?"
2) (Red Five) – Kim: "If I tol you ronce, I tol you tousand times: refty roosy, lighty tighty!"
(Mike) – "Why exactly is ACME violating the embargo?"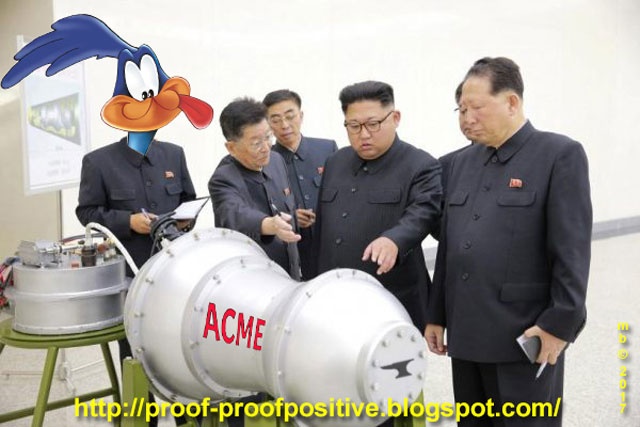 3) (Mary Gehman) – "This is great! Now, we can dry clean these pantsuits before we return them to Hillary."
(rodney dill) – "Where is chocolate frosting?… I definitely ordered…. Yellow Cake, Chocolate frosting."
4) (McG) – "You need to paint something really scary on this end. Like maybe a picture of a North Korean nuclear bomb."
(yetanotherjohn) – Then, when dear leader broke into 'Gingham style' the scientist were really freaked out.
5) (Rick Adams) – You can't hug your children with nuclear arms. You can, however, get a METRIC SHITETONNE of money at regular intervals from nervous Western nations.
(Porkopolis) – Coming this fall from Sony Pictures! The long-awaited re-make of the beloved classic:
Dr. Strangelove or: How I Learned to Stop Worrying and Love the Bomb
6) (Scorpion) – Dear Reader, We put bomb in trash compactor to make smaller. Simple, right?
(Paul Hooson) – The North Korean version of The Three Stooges? But, the catch-phrase is, "Nuke, nuke, nuke…".
Honorable Mention:
(Joe_Miller) – Missing from this photo is the general who thought it would be funny to call the first bomb "Fat Man."
(Rock ThisTown) – "No, you idiot! I said NUKE bomb, not NUDE bomb!"
The Readers Choice Award this week goes to two winners who tied:
(cathymv) – I know its a bomb, but not as big a bomb as Hillarys Presidential run
(Brian Brandt) – What do you mean, "Acme is not a real weapons company?"
Most Inappropriate But Funny:
(guido81_MA) – As ordered, Dear Reader, here is mold to make condoms for bestest buddy, Dennis Rodman. Textured for your preasure.
Reservoir tip need be more bigger, berieve me!
(TheyTukRJobz) – Yes, Fearless Leader. You just put your penis in here for a half-hour every day and 6 months later, it will be a powerful 6 inches long!
Best Reuse of the Caption of Choice for the Trump Administration:
(RadiCalMan) – Thanks to Bubba, this is where we are today; aren't you glad we won't have to find out what Hillary would do next!
That's all for this weekend. A new edition of the Wizbang Weekend Caption Contest™ will debut Friday morning.