This week's Weekend Caption Contest™ reminded me what a bullet we dodged last November. How many outfits like the one pictured here could we take day in and day out? The usual over 200/double winners per place applies. The assignment this week was to caption the following picture:

Here are the winning entries:
1) (Brian Brandt) – "Purple Prada jacket – $1,800
Jimmy Buffett shirt – $29.95
New hair style – $200
Not being President – Priceless"
(guido81_MA) – "Barry Manilow has really let himself go."
2) (Retired military) – "A more realistic picture"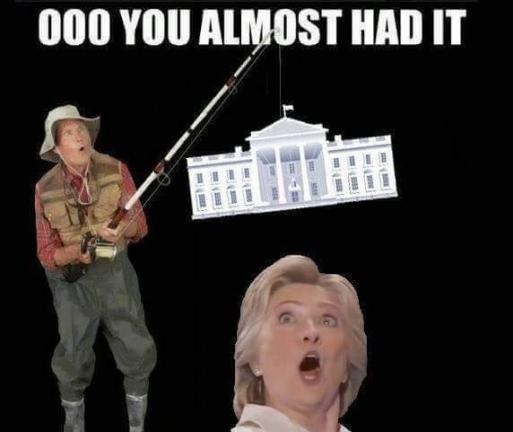 (Porkopolis) – "The Devil Wears Pleather"
3) (cathymv) – "Lying Purple People Eater"
(Mike) – "Don Ho! Well, maybe not Don!"
4) (Rock ThisTown) – ""Does this jacket make my Presidential loss look fat?""
(914) – "Liberaces revenge!"
5) (yetanotherjohn) – "I don't know what she's saying, but I would like to personally take this moment to thank the people of Pennsylvania, Michigan and Wisconsin."
(Mary Gehman) – ""You should see my new handbag…it's a 'basket of deplorables'.""
6) (RadiCalMan) – "🎵 Regrets, I've had a few
But then again, too few to mention
I did what I had to do
And saw it through without exemption
I planned each charted course
Each careful step along the byway
And more, much more than this
I blew it my way 🎵"
(Paul Hooson) – "Purple Hazel"
The Readers Choice Award this week goes to:
(rodney dill) – "The death Chuck Barris opened to opportunity of Hillary to star in her own Gong Show. The ratings vastly improved after it was rebranded as the Gone Show"
Honorable Mention(s):
(David Robertson) – "If THAT is what crawled out of the woods, then even Smokey the Bear would set that forest on fire."
(Rodney G. Graves) – "Arkansas Surf & Turf: Cold Fish in Dead Cow."
Most Inappropriate But Funny:
(Olsoljer) – ""…………. coming out of the closet, and when I go to prison the public will pay for my sex change. Hey, if Obama can be a pussy, I can be a dick.""
(Joe_Miller) – "Welcome to my Dungeon of Pain! I am Mistress Hillary!"
That's all for this weekend. A new edition of the Wizbang Weekend Caption Contest™ will debut Friday morning.