On 01/23/17, new White House Press Secretary Sean Spicer tried to spin the B.S. that he gave to the White House press corps on 01/21/17.
According to CBS News, Spicer said on 01/21/17, "This was the largest audience to ever witness the inauguration period both in person and around the globe," and, "Photographs of the inaugural proceedings were intentionally framed in a way in one particular tweet to minimize the enormous support that had gathered on the National Mall."
As Robin Hood's merry men would say to Spicer . . .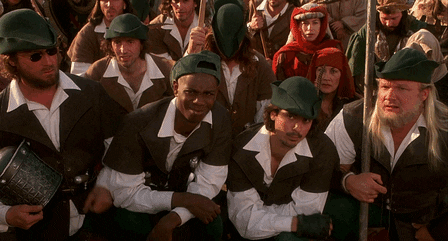 Shortly after Spicer's above-quoted proclamation, PolitiFact gave it a "Pants On Fire" rating.
PolitiFact states, "Spicer suggested 720,000 attended Trump's inauguration, while organizers said they expected 700,000 to 900,000, and Trump himself estimated 1.5 million. All of those figures are less than the 1.8 million people who attended Obama's 2009 inaugural."
So, during his first official press briefing on 01/23/17, Spicer tried to spin the aforementioned falsehood that he told.
From ABC News: "On Monday, Spicer defended Saturday's statement when he said "this was the largest audience to ever witness an inauguration — period — both in person and around the globe," citing audiences who watched the inauguration online and through streaming services, even though those audience numbers have not been confirmed. When asked by ABC News' Jonathan Karl about whether or not Trump's inauguration had a larger audience than that of President Ronald Reagan's inaugurations, Spicer said, "I'm pretty sure that Reagan didn't have YouTube, Facebook or the internet.""
That is more B.S. from Spicer, because in his previous statement, he claimed that President Trump's inauguration had the largest audience in attendance as well as the largest audience not in attendance.
That is not the same as simply saying that Trump's inauguration was the most-watched inauguration.
Folks, this is an unforced error on Spicer's part. He didn't have to rant about the inauguration's audience size in the first place.
Then on 01/23/17, Spicer misrepresented what he said on 01/21/17. In doing so, he lost credibility.
Shame on him!